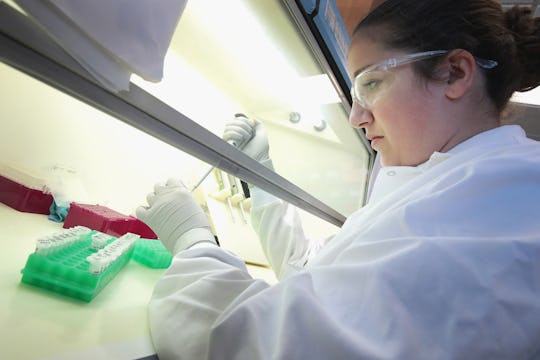 Scott Olson/Getty Images News/Getty Images
Who Are The First Zika Vaccine Trial Patients? Their Involvement Is Crucial
A solution to the Zika crisis might just be one step closer to becoming a reality. Earlier this year, the US Food and Drug Administration (FDA) approved the first human trials of an experimental Zika virus vaccine. Following the go-ahead in late July, health and government agencies in the United States began injecting human volunteers with an experimental DNA-based Zika vaccine. By the end of August, there were a total of 80 volunteers between 18 and 35 years old who received the vaccine. But, who are the first Zika vaccine trial patients? One vaccine was tested on healthy volunteers of childbearing ages, which is especially crucial because Zika has been linked to potentially catastrophic birth defects in fetuses, such as microcephaly, or abnormally small heads, and undeveloped brains.
The identities of the Zika vaccine volunteers are anonymous, but what is known is that all 80 patients were not infected with virus prior to the trial and were tested in cities across the United States. According to CNN, the volunteers involved in the trial conducted by Inovio Pharmaceuticals along with GeneOne Life Science were put into three groups that received the same dose of the DNA-based vaccine at different intervals over a 20-week period. If it proves to be effective it would ideally be given to women and teens, as well as their sexual partners.
By vaccinating women of childbearing age and the sexual partners, the risk of Zika infecting their future fetuses would be decreased. Zika is predominately spread by mosquito bites, but it can also be transmitted sexually by both men and women, making it necessary to vaccinate both genders.
But, because Zika causes the most damage during the first trimester of a pregnancy, researchers have stressed that girls in areas prone to the virus should be vaccinated before they reach puberty.
"In the real world, women are most vulnerable before they even know they are pregnant," director of the National Institute of Allergy and Infectious Diseases Anthony Fauci told CNN. "So we need to vaccinate as young as we can possibly get them."
According to ABC News, further testing could begin as early as January for the Inovio Pharmaceuticals and GeneOne Life Science study if the first phase is successful, which was done on very healthy individuals with strong immune systems. Phase two would involve many more volunteers to have a more diverse research of the vaccine's safety and effectiveness, and whether or not they would be able to ward off Zika.
The last step before the vaccine would be available for public use would be to test groups of people in areas that have been hard-hit by the virus. Volunteers would be given either a vaccine or a placebo, which researchers say would help further determine how effective the vaccine actually is.
This vaccine's testing is said to be very safe, as it contains just portions of viral DNA and Zika can't be transmitted through it. While there is still much to be learned and researched before the vaccine is widely available, the first volunteers have been paramount in bringing researchers one step closer to solving an international health crisis.