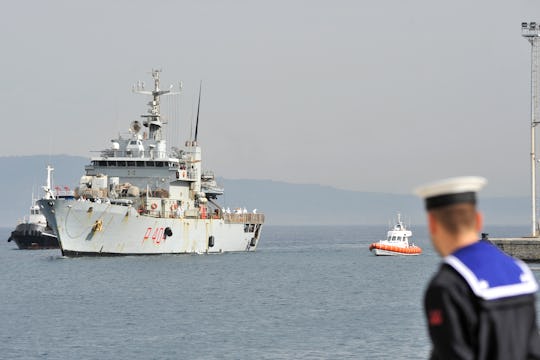 GIOVANNI ISOLINO/AFP/Getty Images
Who Are The Italian Shipwreck Victims? Over 700 Refugees Are Feared Dead
In heartbreaking news, the UN refugee agency reports that over 700 migrants may have drowned this week in various shipwrecks in the Mediterranean Sea. Three different boats capsized south of Italy over the past few days, and though various international patrol boats rushed to the rescue, in many cases they arrived too late. Who are the Italian shipwreck victims? They were all refugees trying to reach a better life.
The first smuggler's boat capsized on Wednesday off the coast of Libya. Hundreds of migrants had packed themselves onto a small fishing boat, which flipped over. Luckily, the Italian navy was nearby, and deployed helicopters, boats, and swimmers to pull about 550 passengers from the sea. Still, an estimated 100 more passengers are missing.
The next day saw an even worse tragedy, on a boat that had left Libya the day before. This boat, which was carrying 670 people, reportedly did not even have an engine and was being pulled by a different smuggling boat, a testament to the desperation of its passengers for a better life. According to Carlotta Sami, a spokeswoman from UNHCR, the UN refugee agency, about 100 passengers from this vessel were either rescued or managed to swim to safety. Rescue operations found 15 bodies, but over 500 others are still missing.
And finally, on Friday, a third ship sank on the same crossing. According to Sami, 45 bodies were recovered, 135 people were rescued, and many more are still missing. Initial calls for help placed the number of passengers on the boat at 350 people, but it is hard to know how exact that figure is.
The magnitude of these tragedies is astounding, as is the frequency. Initially, the fact that three different packed boats sank in three days doing the same crossing seems mystifying, but upon closer examination, it makes a kind of terrible sense. The crossing from Libya to Italy is a popular, albeit very dangerous, route for many migrants hoping to escape the perilous conditions in their home countries. People come to Libya from places like Syria and Sub-Saharan Africa. Their great need, along with Libya's relative lawlessness, allows for conditions in which smugglers can offer up spaces in unseaworthy boats, and find overwhelming numbers of willing passengers.
Many refugees used to travel between Turkey and Greece, a much shorter and safer crossing, but that route was blocked. And with the recent warm weather, packed boats have been leaving Libya with much greater regularity.
Unfortunately, for many refugees, the dangers of a packed boat on rough water seem like nothing compared to the dangers of staying in their homes. It's hard to know how many more migrants will suffer a similar fate before something is done to solve the current refugee crisis.