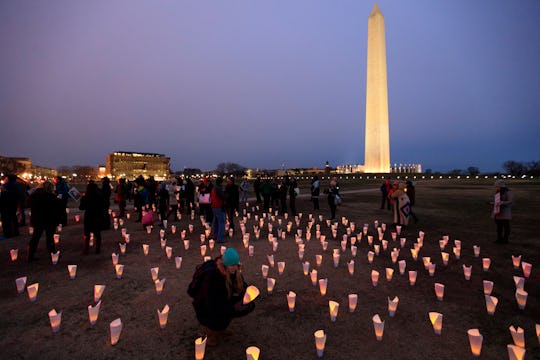 Drew Angerer/Getty Images News/Getty Images
These Are The Judges Who Stopped The Travel Ban
This past Friday, a federal judge in Washington state placed a temporary restraining order on Trump's travel ban — which bars travel from seven different Muslim-centric countries. Six days before that, another judge in New York granted a temporary order restricting the ban. These large victories for the United States and those who seek refuge here were not done under cover of darkness, or by anonymous parties — they were put in place by two very brave people. Today, people wondering about who the judges were that blocked the immigration ban don't do so seeking to criticize them, it seems, as our own president has done, but to laud them for their bravery.
On Saturday, Jan. 28, the federal judge in New York who blocked only part of Trump's immigration ban declared in an order that "authorities could not remove individuals from seven Muslim-majority countries who had arrived in U.S. airports after the order had been issued," according to CNN. This order, signed by federal Judge Ann Donnelly paved the way for Friday's order, issued by Judge James Robart, which halted the immigration ban as well. In the hours after the immigration ban was temporarily lifted, Trump vowed to get the immigration ban reinstated, but on Sunday, a federal appeals court denied that from happening, halting the White House's appeal for immediate reinstatement.
As it's important to recognize these judges for what many believe to be heroic actions, here are the faces to put with those names:
Judge Ann M. Donnelly
While this past Friday's ruling might have lifted Trump's immigration ban permanently, it is still important to recognize how Donnelly's actions the week prior set it all in motion. Donnelly's ruling blocked the deportation of the individuals from the seven countries stranded in airports across the United States; According to CNN, following her order, Donnelly wrote: "There is imminent danger, that, absent the stay of removal, there will be substantial and irreparable injury to refugees, visa-holders, and other individuals from nations subject to the...executive order."
According to The New York Times, Donnelly is a judge with a "firm moral compass," with years of experience. A former New York attorney who received her law degree from Ohio State University College of Law in 1984, Donnelly was appointed to the United States District Court for the Eastern District of New York by former President Barack Obama in 2015. According to The New York Times, one former colleague described her as "exactly the type of judge you want to appear in front of," noting Donnelly is "tenacious" but "eminently fair." These attributes are what paved the way for Donnelly to make the first major call in stopping Trump's travel ban — one that took everything into account smartly and allowed her to act judiciously.
Judge James Robart
As of Sunday afternoon, Robart's decision to temporarily halt Trump's executive order still stands. In his decision, Robart stated that the order "adversely affects residents in areas of education, employment, and freedom to travel," according to CNN. This allowed for the reinstating of visas from airlines to travelers and the removal of travel alerts from airline's websites.
Of course, Trump wasn't too happy about this. The president took to Twitter on Saturday to question Robart's validity, claiming, "The opinion of this so-called judge, which essentially takes law-enforcement away from our country, is ridiculous and will be overturned."
But Robart is anything but a "so-called" judge. In 2004, Robart was appointed to his seat by former President George W. Bush and was confirmed unanimously by Senate. Before that, Robart had experience as a lawyer in a private practice, according to CNN. In his spare time, Robart is active in community service. NBC News describes Robart as "soft-spoken and fearless." And despite Trump's disagreement with him, The New York Times describes Robart as a "mainstream Republican." (As a side note, Robart knows that justice is supposed to work for all people as well: According to The Times, Robart once told a courtroom full of people that "black lives matter" during an oversight hearing.)
Both of these judges' actions have brought some semblance of temporary peace to those immigrants, refugees, and green-card holders who might have felt their livelihoods were at stake. It may not seem like much at this point, but for now, it's a small victory.