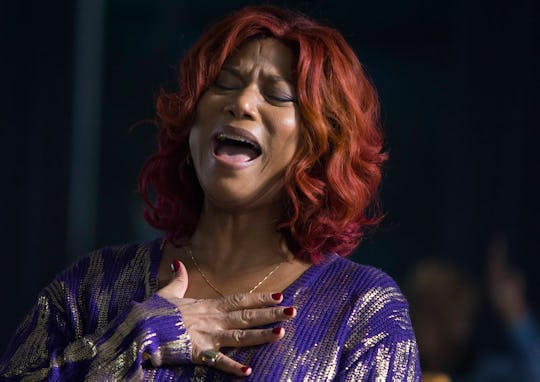 Wilford Harewood/FOX
Who Does Queen Latifah Play On 'Star'? Lee Daniels Created The Role Just For Her
Empire creator Lee Daniels is bringing a new musical drama to FOX and it may be his next great hit. The show, titled Star, follows a musical girl trio that get their start in Atlanta, Georgia and make their way to stardom. Naturally the protagonist, who's played by Jude Demorest, is actually named Star (hence the title). The cast is filled with great actors, but there's only one that Daniels always knew he would cast for the show and that's Queen Latifah. So who does Queen Latifah play on Star? Her character's name is Carlotta and she has an interesting story.
In an interview with Billboard magazine, Daniels explained how he wrote the character of Carlotta with Queen Latifah in mind. "She plays Carlotta, a woman that had a hit in the '90s but ended up in the streets," Daniels explained. "Carlotta has turned her life over to God, but she's still a gangster. She walks on both sides of the curb — in very expensive wigs."
Although many people know Queen Latifah mainly for her acting, she actually started her career as a rapper in the '90s, but unlike Carlotta, she wasn't just a one hit wonder. Not only is Queen Latifah an amazing rapper, she's also a great singer and over the course of her career she's released six Hip-Hop/R&B influenced albums and two all-singing jazz albums. So, of course, Daniels puts all of Queen Latifah's talents to good use in the new show.
Daniels referred to Carlotta as a "true crossover" who will jump around from genre to genre on the show.
"She sings gospel in our first number, but a new type of gospel," Daniels said during the same Billboard magazine interview. "We'll also hear her sing some R&B and do some classic and current rap." So don't worry, you'll definitely get to see all of her talents on display right off the bat when the show premieres.
There's no doubt that Queen Latifah will kill it in this role. With her long resume of acting and singing roles, that includes starring in The Wiz Live!, Chicago, and Hairspray, it's no surprise that Daniels wanted the actress for this part.
You can watch Star when it premieres on Wednesday, Dec. 14 at 9 p.m. ET on FOX, right after the Empire midseason finale. Trust me when I say that you won't want to miss either one of Daniels' creations.