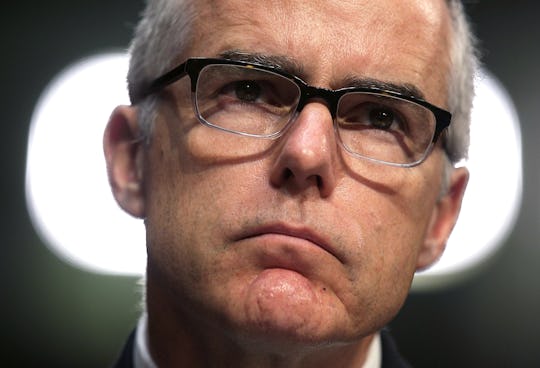 Alex Wong/Getty Images News/Getty Images
Andrew McCabe's Testimony Conflicts With Trump's Words
It's been an especially tumultuous week in Washington since President Donald Trump dramatically fired FBI Director James Comey in an unprecedented and breathtaking move. And since news of the unceremonious sacking began dominating the news cycle Tuesday evening, the White House has struggled to justify the norm-defying firing and to get its story straight about why exactly Comey got the boot only three years into a designated 10-year term. Andrew McCabe, who is the FBI Deputy Director now acting in Comey's place as director on an interim basis, proved Thursday that he's going to work to maintain the bureau's independence, regardless of his predecessor's fate.
When Trump and his people first publicized the fact that Comey was now out of a job, they cited the now-former director's much-criticized campaign-era handling of the investigation into Hillary Clinton's use of a private email server during her tenure as secretary of state as their reasoning. But subsequently revealed information — including claims that Comey had asked for more resources in another FBI investigation, this one into suspected collusion between Trump associates and Russia, just days before his firing — introduce the very real possibility that this probe may have been why he was removed from office.
The White House has attempted to downplay the undeniably monumental nature of this investigation and Trump has denied allegations of collusion. But in testifying before the Senate Intelligence Committee in Capital Hill, McCabe insisted that the Russia investigation is top of mind at the FBI. "Sir, we consider it to be a highly significant investigation," he told Maine Sen. Angus King, according to The Hill.
And earlier in the hearing, McCabe had directly contradicted another assertion that the Trump administration had made in explaining Comey's firing: that "the rank and file of the FBI had lost confidence in their director," as White House Deputy Press Secretary Sarah Huckabee Sanders said at a briefing Wednesday, according to CNN. Asked about the veracity of this statement at the hearing, McCabe was adamant:
I can tell you also that Director Comey enjoyed broad support within the FBI and still does to this day ... I worked very, very closely with Director Comey from the moment he started at the FBI [in 2013] ... I can tell you that I hold Director Comey in the absolute highest regard. I have the highest respect for his considerable abilities and his integrity, and it has been the greatest privilege and honor of my professional life to work with him.
It was never especially likely that the 49-year-old McCabe, who has worked for the FBI since 1996, would retain the position as director, which he took over by statute. Still, it's encouraging to see him refuse to cow to the Trump administration's narrative, considering what happened to Comey.
At the same time, it's not at all surprising that McCabe has a high opinion of Comey. According to The Sacramento Bee, it was Comey himself who appointed McCabe to the position of deputy director of the FBI, a role that he took over in February 2016.
But because this is the United States' government in 2017, there's a wrinkle in McCabe's interim appointment. That's because Clinton ally Virginia Gov. Terry McAuliffe gave $500,000 in campaign donations to McCabe's wife, Jill, during her bid for the governorship in 2015, CBS News reported. As a result, McCabe is a target of a Department of Justice watchdog investigation into Clinton's emails. According to the Bee, the FBI has stated that McCabe "played no role, attended no events, and did not participate in fundraising or support of any kind [for his wife's campaign]."
Now, Americans will wait with bated breath as Trump decides who to appoint as the FBI director. There's no doubt in anyone's mind that his choice will represent just another installment of an already complex saga.