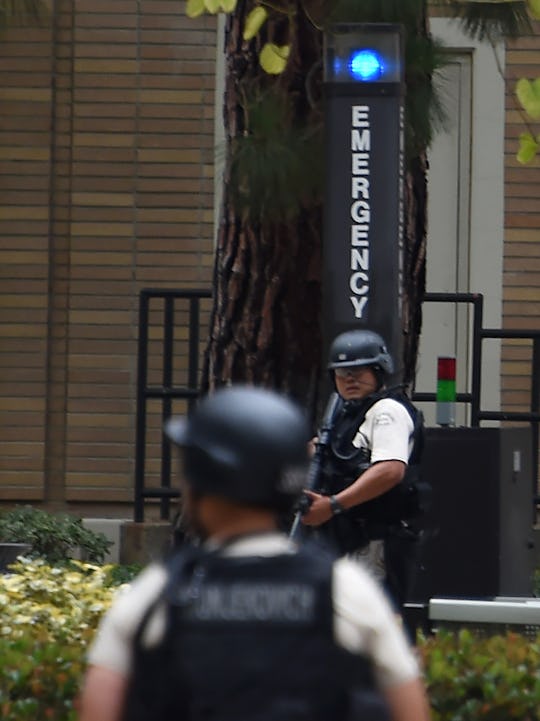 ROBYN BECK/AFP/Getty Images
Who Is Ashley Hasti? The Minnesota Woman Was On UCLA Gunman Mainak Sarkar's Kill List
A shooting at UCLA on Wednesday forced the entire campus onto lockdown. Initially, university police said that an active shooter had been roaming the central engineering building on campus and advised the school's approximately 43,000 students and its faculty and staff to stay indoors and hide to keep safe. Within hours, law enforcement officials determined that the incident had resulted in a tragic murder-suicide, and that the gunman had killed a professor before turning the gun on himself. A short while later, authorities uncovered what appeared to be a hitlist — and one of the women on it had was soon discovered dead in her Minnesota home of a gunshot wound. The lingering question now: Who is Ashley Hasti and how did she know the UCLA shooter?
Update: A Minneapolis Star-Tribune report on Thursday noted that Hasti was previously married to shooter Mainak Sarkar in 2011.
In addition to the two semi-automatic pistols and extra ammunition found on former UCLA student and shooter, Mainak Sarkar was armed with a plan. On Thursday, officials discovered a "kill list" in his Minnesota home that contained a number of names, Hasti's included. While some have maintained that the nature of Sarkar and Hasti's relationship is still unclear, others have claimed that Hasti was the gunman's ex-girlfriend.
Both of the other people whose names appear on the kill list were professors at UCLA, where the gunman earned a doctorate in engineering in 2013, The Washington Post reported. One of the professors was left unharmed Wednesday, but the other, a 39-year-old engineering professor named William Klug, was killed before Sarkar reportedly turned the gun on himself.
When police found Hasti's name on the kill list after the shooting at UCLA, they visited her home and found her dead. Los Angeles Police Chief Charlie Beck told The Minneapolis Star Tribune that she had been shot "within the last couple of days." The paper also reported that the 31-year-old had been enrolled at the University of Minnesota Medical School since 2012, and that she had received a bachelor's degree in Asian languages and literature from the University of Minnesota in 2008. According to her Facebook page, Hasti was once a tutor at community college in Brooklyn Park, Minnesota, where she was living in a home her father owned when she was killed.
Some sources have claimed that Hasti dated the gunman when the two both lived in California, but that it was unclear when or why the two broke up. Although they are not currently listed as friends on Facebook, Hasti posted photos with and of him to the social media site in 2011.
Beck told The Post that the motive for Klug's killing appears to have been over intellectual property (the killed reportedly wrote that Klug had stolen code from him while he was a student). Beck, however, told The Post that "this was a making of his own imagination."
As a medical student, Hasti wrote a rap about getting low test scores, which she called a "medical school song parody." "Just lil' ol' me rappin' about first world problems," the video's caption reads. It was uploaded to YouTube at the end of 2013.
Reports about Ashley Hasti's death are clearly tragic, and it's likely that we will learn more about her relationship with her killer in the days and weeks to come. While police have characterized the shooter's motivations as part of a "mental derangement," it may be impossible to know for sure why he did what he did, and why a professor and medical school student are now dead.