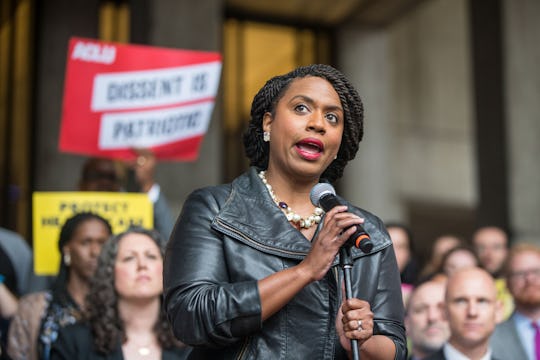 Scott Eisen/Getty Images News/Getty Images
Ayanna Pressley Just Made History In Massachusetts
As polls officially close and preliminary results continue to roll in from across the nation, the world is watching and waiting to see how it all plays out following the 2018 midterm elections. Already, some races have been called because of the significant leads. And at this point, many people are probably wondering: Who is Ayanna Pressley? Because she just made history in Massachusetts.
As The Hill reported, Pressley, 44, is officially the first black woman from Massachusetts to be elected to Congress. Granted, the Democrat won an uncontested race to represent a district in the Boston area. But it's still a pretty big deal — especially since Pressley defeated a veteran Congressman Rep. Mike Capuano in her primary election in September, according to The Washington Post. "You saw what I saw: That these times demanded more from our leaders and our party," Pressley told supporters in Boston. "It's not just good enough to see the Democrats back in power. It matters who those Democrats are." For the record, Pressley is no stranger to making political history. That's because in 2009, she was actually the first woman of color ever to be elected to the Boston City Council, according to The Washington Post.
Check out her reaction, below, when she first learned she had defeated Capuano in September.
Although Pressley hasn't yet issued a statement (or tweet) since she officially won on Tuesday, she did reflect on what it meant before the election. "It is all very surreal, and the historical significance of my win is certainly not lost on me," she told WGBH News, Boston's NPR affiliate. "It's hard to believe, in a 230-year history of our Commonwealth, we never had a person of color to represent us in the House of Representatives."
The Twitter-sphere wasted no time in acknowledging Pressley's historic win on Tuesday, Nov. 6. One Twitter user wrote, "HISTORY! Ayanna Pressley just became the first Black congresswoman from Massachusetts ever!"
Another person tweeted, "Ayanna Pressley just became the 1st Black woman ever elected to Congress for Massachusetts."
Yet another Twitter user wrote, "This has been a great year for @AyannaPressley !! We are soo proud of you!! "
As HuffPost reported, Pressley's campaign honed in on the need to switch things up in the U.S. House of Representatives. And she led by example by refusing to accept donations from corporate PACs. Pressley's campaign also championed concepts like debt-free college and Medicare for all, as well as abolishing Immigration and Customs Enforcement, HuffPost reported. "I've been told to wait my turn," Pressley said early this year at a campaign event, according CommonWeatlh Magazine. "I've been called a traitor for challenging an incumbent, told simply this isn't the way things are done here in Massachusetts. When the challenges we are confronted with are this big, this deep and growing, I can't and I won't wait my turn."
Although Ayanna Pressley was uncontested on Tuesday, you have to admit the fact that she's the first black woman from Massachusetts to be elected to Congress is inspiring AF. Personally, I'm glad she challenged the status quo during her primary election — and I have no doubt she'll continue to do so in the House of Representatives.