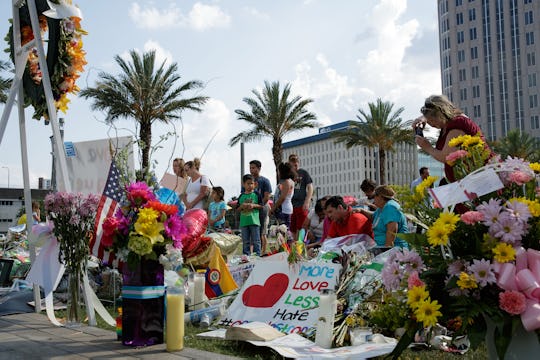 Drew Angerer/Getty Images News/Getty Images
Who Is Brenda Lee Marquez McCool? The Orlando Victim & Mother Of 11 Lived A Brave Life
Brenda Lee Marquez McCool was one of the many victims who lost their lives in the deadly shooting at Orlando gay nightclub Pulse this past weekend. In the early hours of Sunday morning, a gunman stormed the club and opened fire, taking hostages before ultimately being taken out by police. But who was Brenda Lee Marquez McCool? She was a mother to 11 children, a grandmother of six, a two-time cancer survivor, and was protecting her son in her last moments.
McCool, 49, was one of the 49 people killed in the deadly mass shooting last Sunday. According to an interview with The New York Daily News, the Brooklyn-native mother was at the club and was protecting her son, Isaiah Henderson, who survived the shooting spree when the gunman opened fire.
"Brenda saw him point the gun," Ada Pressley, McCool's sister-in-law said according to the news outlet. "She said, 'Get down,' to Isaiah and she got in front of him. That's how much she loved her kids. If it weren't for her, he'd have been shot."
A Gofundme account said to be created by McCool's fifth oldest son, Fareed Marshall, shared more information on McCool and the children by whom she's survived:
... This wonderful and caring woman ... a mother of 11 children [who beat] 2 types of cancer, [has been] taken off this earth from what we call "Insanity." She just went out last night and said goodbye to her children [who were] called 3 hours later [and told] that she had been hit by 2 gunshots and later pronounced dead ... among the 49 killed this very day. [It] is beyond me. One Decision changed the lives of many. All I ask is for prayers and whatever you can [do] to help me and brothers sisters to be able to pick up the pieces where she left off. You will forever be in our hearts. Always. I truly love you so much MOM!
My So-Called Life actor, Wilson Cruz, told Entertainment Tonight that McCool, who was his mother's step-sister, often enjoyed going out with her son.
"Brenda went to Pulse the way she frequently did, with her 21-year-old openly gay son, Isaiah," Cruz said according to ET. "They loved to go there on that night because it was Latin night and they could be with their friends, dance salsa and find refuge in a safe space."
According to a profile on McCool on NBC News, McCool, who had been previously married, originally left New York City for California, before moving to Orlando with six of her children, the youngest of whom was 12.
Robert Vince Pressley Sr., who was married to McCool, told NBC that McCool was always trying to help others. "She was a good mother [and] a good provider," Pressley said. "She was always trying to help people, taking people in who had no place to live."
With all the chaos of this past weekend and the information flying around, it's important that we keep McCool's and the other victims' legacy alive, more so than ever.