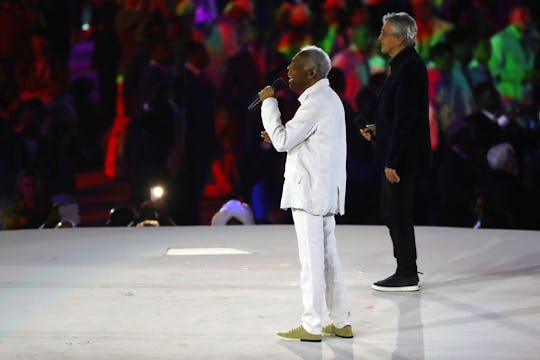 Elsa/Getty Images Sport/Getty Images
Who Is Gilberto Gil? The Musician's Rio Olympics Opening Ceremony Performance Was Solid
Friday night's Olympics opening ceremony was replete with vibrance and enthusiasm. Music and dance characterized the event, with local stars showcasing their artistic talents as a prelude to the athletic talents that are to come. If you're not well-versed in Brazilian music, you might be wondering about the three-person performance featuring the small, older man in a crisp, white suit. So, then, who is Gilberto Gil?
Gil is, obviously, a vocalist and musician. According to the official Rio 2016 website, Gil's musical influences "include rock and folk music, and Brazilian genres including samba, African music, reggae, salsa, and bossa nova." Gil also held the highly-respected position of Brazilian Minister of Culture from 2003 to 2008, a position he served while continuing to perform and write music.
A 2007 New York Times profile describes Gil's upbringing, saying that, since his early life as a poor, black young man, he's "been straddling disparate worlds most of his life." He worked for a "multinational company at a time when few black Brazilians had access to such jobs." After this endeavor, Gil was exiled to Britain after this due to a military dictatorship.
In articulating his passion for music when compared to his more political work as Minister of Culture, Gil told The New York Times that, even with music not being his main job, it would always remain a vital and integral part of his life:
Music is something visceral in me, something that exudes from me, and even when I'm not thinking about it, I will still be making music, always.
Gilberto Gil's performance at the opening ceremonies was well-loved by viewers. A true national treasure, fans voiced their reverence on Twitter:
Gil's sang the song "Isto Aqui, O que É?" alongside fellow Brazilian stars Anitta and Caetano Veloso. The performance epitomized so many things that Brazil values, including creativity, passion, positivity, and dedication. It also featured enthusiastic, costumed dancers in true, Brazilian Carnival form. The audience danced along with them, enjoying the party.
Gil's music also served as somewhat of a soundtrack for this year's games. His tune, "Aquele Abraco," translated in English to "That Hug," was used in an opening video for the ceremony. The song was also utilized in the closing ceremony for the 2012 Olympic games in London.
Gil helped set the tone for what will be a very lively couple of weeks. Rooted in cultural history, he represents the very best of Brazil, and fans worldwide agree.