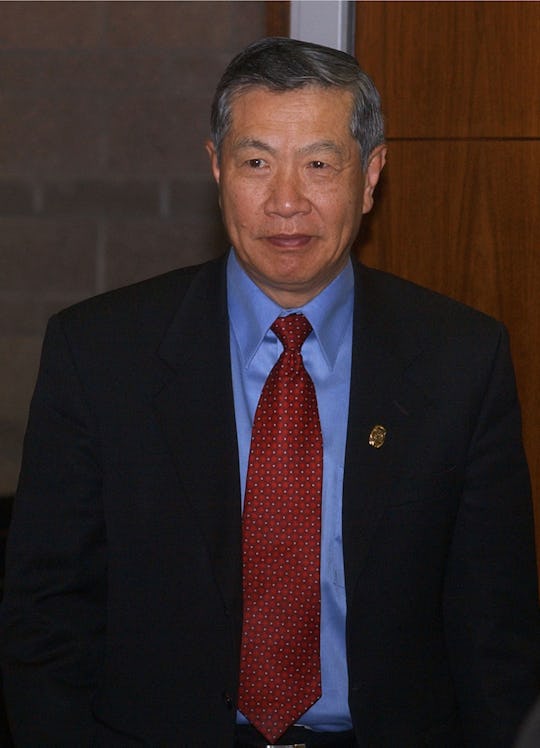 Pool/Getty Images News/Getty Images
Who Is Henry Lee? 'The Case Of: JonBenet Ramsey' Specialist Is Key To The Investigation
When six-year-old JonBenet Ramsey was found murdered in her family's Colorado home in December of 1996, there was a lot about the homicide that was unanswered. And to this day, the case remains a mystery to so many. But now, 20 years later, the case is about to be reopened with a team of investigators and scientists delving into the murder of JonBenét Ramsey, including Henry Lee, who worked on the case two decades ago. So, who is Henry Lee on The Case Of: JonBenét Ramsey? As a forensic scientist, he has worked on plenty of high profile cases that have made headlines in the past 2o years, including JonBenét Ramsey's. And while her murder remains unsolved, a lot can change in the way of science and DNA testing in 20 years, and according to the upcoming CBS docuseries, The Case Of: JonBenét Ramsey, that rings plenty true.
With a new team of investigators and scientists from both Colorado and Scotland Yard, Henry Lee is set to open the case of JonBenét Ramsey again in order to try and solve it. Since being involved in the initial JonBenét Ramsey homicide case, Lee has worked to uncover the truth in countless other cases, many of which we've all heard about in some capacity. So if the question is whether or not Henry Lee is prepared to take this on again, there really isn't a question about it.
Henry Lee began his career in Taiwan when he studied police science and worked with the Taipei Police Department. When he moved to the U.S. in 1965, he continued his education with a B.S. in Forensic Science from John Jay College of Criminal Justice in New York. He then studied biochemistry at NYU and received his Ph.D in 1975. So yes, he knows what he's doing. But to really know Henry Lee is to know his most famous cases and accomplishments to date.
He Founded The Henry C. Lee Institute Of Forensic Science
In the early 90's, Henry Lee and some of his scientist buddies founded the Henry C. Lee Institute of Forensic Science, a college dedicated to learning about and teaching forensic sciences, at the University of New Haven. As of 2010, the campus has "a crime scene center, high-tech forensic room, a crisis management center and three classrooms" as well as "a state-of-the-art learning center that utilizes the latest in virtual instruction and touch screen technology to bring in-depth information regarding various areas of forensic science to students from around the world," according to the website.
He Had His Own Show On truTV
Lee's show, Trace Evidence: The Case Files of Dr. Henry Lee, only aired for eight episodes back in 2004, but was hosted by Henry Lee himself and retold the details of some of his most noteworthy cases. As with most truTV shows, it was short-lived, but with an IMDB rating of 6.7, it's not too shabby.
He Worked On The Scott Peterson Case
Remember back in 2002 when Scott Peterson was accused and convicted of murdering his wife, Laci Peterson, and their unborn child? In that case, Henry Lee was there to head the forensic scientists that assisted in the case, which they obviously did. Now, Scott Peterson is on death row at San Quentin for the double homicide.
He Worked On The O.J. Simpson Case, Too
We all know how the O.J. Simpson trial ended, but Henry Lee also worked forensics for this case after being called by Robert Shapiro to do so. He was called on to examine some of the physical blood and DNA evidence, as well as blood spatter patterns presented in the O.J. Simpson trial.
He Was Involved In The Early Investigations Of Casey Anthony
In the 2008 case of two-year-old Caylee Anthony being reported as missing and then found dead near her family's home, Henry Lee also played a role in the early stages of the investigation.
When the CBS docuseries, The Case Of: JonBenét Ramsey, airs in September, we'll get another look at Henry Lee in action as a forensics scientist as he tries again to help solve JonBenét Ramsey's murder.