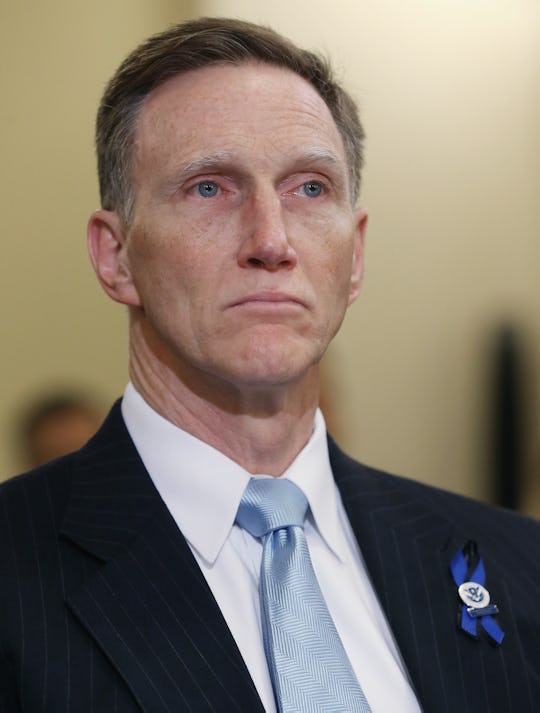 Mark Wilson/Getty Images News/Getty Images
John Pistole Being Considered For FBI Director
It has been weeks since President Trump fired former FBI Director James Comey on May 9, and his administration has yet to fill the hole he left with his departure. Former Deputy Director Andrew McCabe has been serving as director in the interim, and several possibilities have been tossed around in the news and on social media as to who will replace Comey full time. It looks as though President Trump may finally offer a definitive answer to that question in the near future: White House Press Secretary Sean Spicer announced this week that Trump will be interviewing John Pistole and Christopher Wray for the position on Tuesday, now that Trump has returned from his eight-day international trip.
Spicer told reporters during a press briefing at the White House on Tuesday:
The president will be meeting with two additional candidates this afternoon, both Chris Wray and John Pistole. When the president feels as though he's met with the right candidate, he'll let us know. But he'll meet with candidates today and continue to do so until he finds the right leader.
Romper reached out to the White House for additional comment on the news and is awaiting a response.
John Pistole could be considered a particularly experienced candidate for FBI Director; Before his tenure as president of Anderson University, a Christian university based in Indiana, Pistole worked with the FBI from 1983-2010, according to Politico. In fact, he served as deputy director under former FBI Director Robert Mueller from 2004 until 2010, the same man who was recently appointed by the Department of Justice to investigate possible ties between individuals associated with the Trump campaign and Russian operatives during the 2016 election.
Pistole spoke to USA Today about Mueller's recent appointment to head the investigation, telling the news outlet Mueller would be "the best thing for the FBI, to get to the bottom of everything and bring some closure, whatever the outcome."
Pistole left the FBI in 2010 when President Obama named him director of the TSA. He found himself in hot water over his controversial decisions to put strict security measures in place like full body scans and pat downs, but insisted such extremes were necessary in the wake of 9/11. Pistole was head of the FBI's counter-terrorism division until he was named deputy director in 2004.
According to The Indy Star, Pistole is well connected within the current Trump administration; He and Vice President Mike Pence (also from Indiana) reportedly know each other well, and is also acquainted with Director of National Intelligence Dan Coats. The news outlet reported that Pistole has remained close to former Director Comey, who was a guest speaker at Anderson University when Pistole was president.
Trump was said to be considering Pistole as one of the early contenders in the wake of Comey's dismissal earlier this month, along with several other possible candidates who have since taken themselves out of the running like Sen. Joe Lieberman, Rep. Trey Gowdy, and Sen. John Cornyn.
No word yet on whether or not Pistole would consider an offer to head up the FBI from Trump or not.