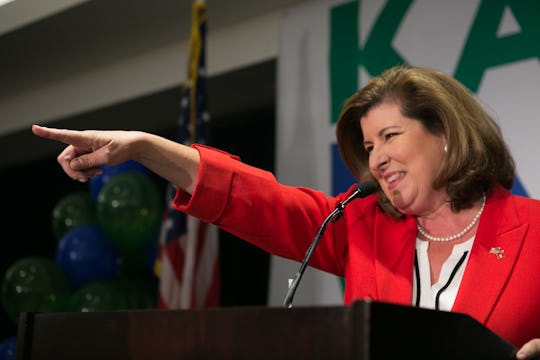 Jessica McGowan/Getty Images News/Getty Images
Karen Handel Wins Georgia's 6th Congressional District
As the most expensive House race in history comes to a close, it looks like a Republican candidate will hold onto Georgia's 6th congressional district after all. Who is Karen Handel? She's projected to win against Democrat contender Jon Ossoff.
Handel will be taking over the seat vacated by Health and Human Services Secretary Tom Price, in a district that hasn't elected a Democrat as a congressperson in decades, and that is widely regarded as a Republican stronghold. Still, in the wake of President Donald Trump's election, the race became closer than expected, with the contest viewed by many as a harbinger of things to come in 2018. Many Democrats hoped against hope that Handel's rival, Jon Ossoff, would pull off an upset, but he fell just short, and now Handel will be heading to Washington, D.C.
Handel, who previously served as Georgia's secretary of state, ran on a relatively standard conservative platform. She made it clear on the trail that she supported Republican efforts to repeal and replace the Affordable Care Act. She's also staunchly pro-life, which lead to a controversy when she served as the senior vice president for policy at the Susan G. Komen Foundation. With her leadership, the breast-cancer charity announced that it would be cutting funding for vital Planned Parenthood screenings. A swift backlash ensued, and Handel ended up resigning from her role when the foundation reversed course in 2012.
Tuesday's race was actually the run-off from an April primary election, in which Handel finished second to Ossoff in a field crowded with Republican challengers. During the final few weeks of the run-off, President Trump weighed in on the race in Handel's favor, repeatedly tweeting in support of her, although she did not exactly embrace him whole-heartedly on the trail. During a debate with Ossoff earlier this month, Handel said that she was "not an extension of the White House," and that she would not rule out impeachment hearings if it turned out that Trump had obstructed justice. She did, however, also made it clear that she supports many of Trump's actions, including his pulling out of the Paris climate accord.
And when Handel gave an acceptance speech on Tuesday night, making history as the first GOP woman to represent the district, she thanked the president.
Ossoff gave his own speech on Tuesday night, striking a note of hope among the defeat. He emphasized that the fact that a Democrat came so close was a victory in and of itself, saying, "We showed the world that in places where no one thought it was even possible to fight, we could fight... This is the beginning of something much bigger than us."