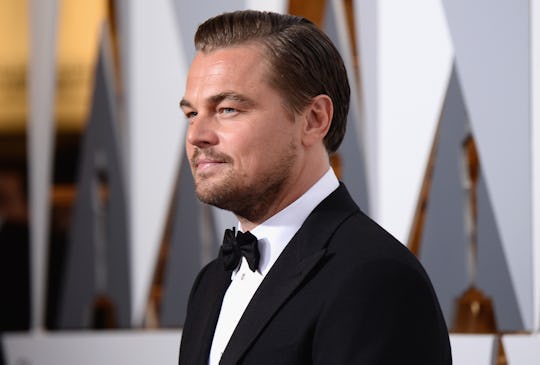 Frazer Harrison/Getty Images Entertainment/Getty Images
Who Is Leonardo DiCaprio's New Girlfriend? She's A Model
Oh, Leonardo DiCaprio. It seems like just yesterday the world was cheering him on as he walked across the stage to receive his first Academy Award. Well, the world is still cheering him on (fingers crossed for 2017) but it seems like one more lucky lady might be cheering him on as well. Yes, Leo's got a new beau and I'm insanely jealous. You might ask yourself, who is Leonardo DiCaprio's new girlfriend? Do I have to even answer that question? She's a model...of course.
It seems like DiCaprio is always dating someone. No judgement, here, I'm just jealous. So, the world was shocked when he split from his ex-girlfriend, Kelly Rohrbach in January of this year. US Weekly reports that the two had been dating for seven months before their relationship quietly fizzled out. That left Leo without anyone to bring with him as his date for the awards season (hello, I was available).
All jokes aside, Leo seemed to be enjoying his single life, partying with pals Kevin Connolly and Orlando Bloom shortly after his split with Rohrbach. But, it appears to be that Leo has a new girlfriend now, just four months later.
Who is she? Her name is Chelsey Weimar and she is a Victoria's Secret Model.
Page Six reports that Leo and Weimar were spotted leaving a restaurant together in Malibu and allegedly posted pictures from his home on her Instagram account. While there has been no pictures of them taken together, I can only assume that that make one beautiful couple.
So what about Weimar? Nobody really knows the model's age but there are rumors that she is 19-year-old. That is much younger than Leonardo's last girlfriend, Rohrbach, who was only 25. In a Slate post from January, the author states that DiCaprio has never dated a woman younger than 20 and older than 25. But could Weimar be the exception?
Weimar is a model for Victoria's Secret Pink line and looks pretty great while doing so. This fits right in to Leo's dating patterns, as his past three girlfriends (and many before that) were models as well.
Now, neither Weimar nor DiCaprio's team have responded about the two allegedly dating and neither Weimar nor DiCaprio have confirmed or denied whether or not the two are a couple. But if they are, more power to them.
Leonardo, on the other hand, is keeping quiet on his Instagram, posting pictures with orangutans and not models.
Whatever the case may be, I'm sure Leonardo is very very happy — single, or dating. I mean, just look at how happy he looks with that orangutan!