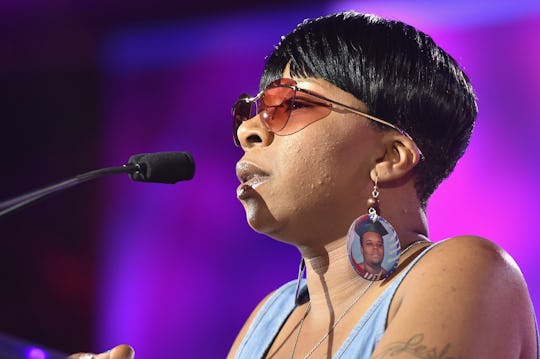 Paras Griffin/Getty Images Entertainment/Getty Images
Michael Brown's Mom Is (Hopefully) Running For City Council In Ferguson
It's been almost four years since the fatal shooting of the unarmed black teenager, Michael Brown. Since then, police brutality has become a much-talked-about issue in politics and the global spectrum of policy change. So, who is Lezley McSpadden? Michael Brown's mom is actually running for city council in her hometown of Ferguson, Missouri, the very same town where her son was killed. And it seems as though if elected, she'll definitely want to make some changes from the ground-up.
Yes, speaking at a recent panel about police violence at Harvard University, McSpadden revealed that she's strongly considering running for the Ferguson city council, according to the Huffington Post. At first, though, McSpadden only hinted that she was considering a run for office. "What I'm contemplating is running for City Council of Ferguson," she said, per HuffPost.
But then, per the St. Louis Post-Dispatch, the crowd broke out into chants of "Run, Lezley, Run!" and she then said, "We have to get behind people who look like us and get them in these elected seats so that they can really do what's right by the community, and I'm going to start with me by running for Ferguson City Council," according to Mother Jones.
And it appears as though McSpadden might already have a campaign ready to go. Per the St. Louis Post-Dispatch, the mom and author of Tell the Truth & Shame the Devil: The Life, Legacy, and Love of My Son Michael Brown, explained how she would get started, "There are several people back home that are willing to help me get that going and make sure that I'm treated right," she said at the panel. So clearly, McSpadden knows that she has a fair shot at winning the election.
More, McSpadden's lawyer, Ben Crump, also seemed confident that his client had a good chance at winning, and just how powerful that would be if she did. "What a legacy that would be—elected to the City Council and supervising the same police that killed Michael Brown," he said during the panel, which he was also on. Crump also represents Stephon Clark's family, the 22-year-old black man who was shot and killed by Sacramento police officers on marsh 28, 2018, according to The New York Times. Unfortunately, as much time has passed since Brown's death, there are still instances of police brutality, and McSpadden's decision to run for political office shows a shift in the spectrum. If those affected by violence are willing to step into the political arena, then change surely could come about.
Truly, McSpadden moving into the political arena would be nothing short of spectacular. According to Mother Jones, McSpadden has done a lot since her son was killed. After that horrific tragedy, "McSpadden completed her high school diploma, wrote a book, and joined Hillary Clinton on the 2016 presidential campaign trail," the publication reported.
When Brown was killed, McSpadden went through many emotions all at once, and understandably so. "I wasn't in denial. I was in shock. I was in panic mode," she said, according to CBS New. "I needed to know and I wanted to see for my own self, and they wouldn't let me see and they wouldn't tell me anything." From a day when her world was turned upside down, to getting her diploma, writing a book, and now potentially running for city council, McSpadden has come a long way, and tried to work through the many injustices she's gone through in her life. If she were to win the city council election, she could make change happen from the ground up.