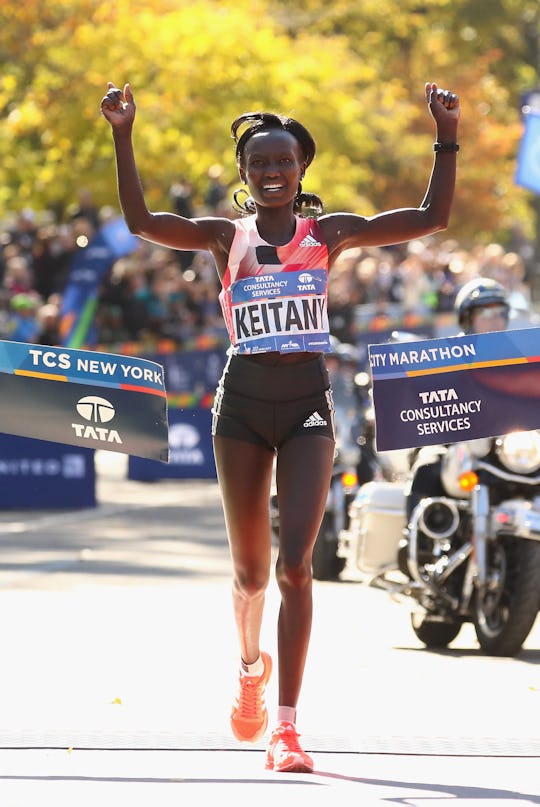 Elsa/Getty Images Sport/Getty Images
Who Is Mary Keitany? The Kenyan Just Won Her Third Consecutive New York Marathon
The beginning of November marks one of the most incredible sporting events in the world — the New York City Marathon. Every year, runners from all over the world head to Manhattan to race one another through the five boroughs of New York City. Today, perhaps more importantly, people might be wondering who Mary Keitany is — and how she ran faster than everyone else to achieve her third straight New York Marathon victory.
Keitany, a 34-year-old runner from Kenya, completed the race in 2 hours 24 minutes and 6 seconds. According to The New York Times, Keitany was so far ahead of her competition that she finished "completely out of sight from the rest of the field" and "covered more than half of the course entirely alone." That alone is an amazing feat for anyone running in the Marathon, one of the most demanding races in the world. Mind you, this is not your average 5k, held somewhere in the suburbs — the New York City Marathon is a physically demanding race that starts in Staten Island and makes its way across Brooklyn, Queens, the Bronx, and ends in Central Park in Manhattan — coming to a total of 26.2 miles. Talk about impressive.
Keitany's win on Sunday means that she has now won the New York City marathon three years in a row, becoming the first woman in 30 years and the second woman ever to do so, according to The Times. And according to Competitor, Keitany's 2015 performance — her second NYC Marathon win — was the 13th fastest performance in the marathon's history, ever.
Despite Keitany's speed and winning record, she has never won at the Olympics during the women's marathon event and finished fourth in the 2012 London Olympic games. According to the International Association of Athletics Federations, IAAF, one year ago, Keitany was hopeful about heading to the 2016 Rio Olympics. Instead, Keitany performed poorly at the London Marathon in April and was put on the Kenyan team as a reserve runner instead — barely missing a potential podium dash in Rio. USA Today describes Keitany's win, just three months after the Rio Olympics, as "sweet vengeance."
If Keitany's endurance and speed don't impress people, maybe the fact that she is a mother will. According to The New Yorker, Keitany is mother to two children 9-year-old Jared and 3-year-old Samantha, whom she raises with her husband, Charles Koech. According to The New Yorker, the two children — whom she describes as "her major motivating factor" — came to New York City for this first time this year to watch their mother cross the finish line and win the race.
"It was tough at the beginning to come back after pregnancy," Keitany told IAAF in 2015. "But being a mother is also good. When I'm running I remember them and I realize I'm not running for myself, but also for my family."
Keitany's devotion to her children and parenthood, along with her ability to bound back from defeat, after last year's London Marathon, are incredibly impressive. There's no doubt in anyone's mind that Keitany is an inspiration to women everywhere — fellow marathoners or not.