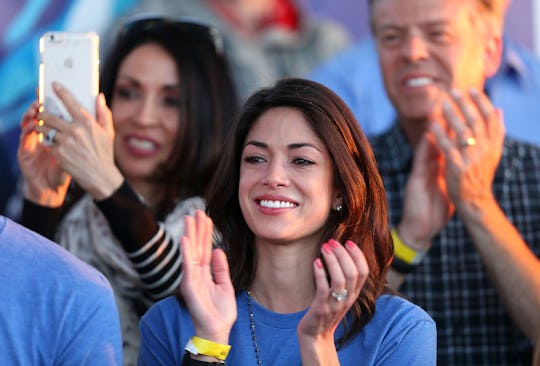 Chris Coduto/Getty Images Sport/Getty Images
Who Is Michael Phelps' Fiancee? Nicole Johnson Is A New Mom & Pageant Winner
This summer in Rio, there's a new biggest Phelps fan! Michael Phelps' fiancée, Nicole Johnson, has already Instagrammed their nearly two-month-old baby from the stands at the Olympic swimming trials. The sweet hashtag used? #TeamDaddy. Their child, Boomer Phelps, is the couple's first. From the looks of their Twitter and Instagram feeds, you can tell they're both totally over-the-moon about Boomer. But what about Johnson? When did she first come on the scene?
Though they've known one another since 2007, Johnson and Phelps began dating in 2011 and stayed together through Phelps' DUI and rehab stint in 2014. Phelps proposed to Johnson in Feb. of 2015 and the couple is currently engaged. Their son, Boomer, was born on May 5, 2016.
Though not an athlete, Johnson has played plenty of positions of her own. She's college graduate, an experienced marketer, and was even winner of the Miss California pageant in 2010. Johnson's LinkedIn Profile outlines her accomplishments: she earned a Media and Communications degree from the University of Southern California in 2007, has served a variety of account management and sales roles, and lists her current employment as a Volunteer Marketing Manager for the Michael Phelps Foundation, her fiancé's organization, which strives to "promote healthy, active lives, especially for children," through — you guessed it — swimming.
As an active social media user, I used Twitter and Instagram to get to know Johnson a bit better. Is Johnson a #MotivationMonday type? Does she #FollowFriday? How about throwing out a #tbt? The following posts include some of my favorite Nicole Johnson social media moments. By the end of the article you might feel like BFFs.... (At the very least, you might want to throw her a follow.)
She Geeks Out About Science & Philosophy
She's just citing National Geographic like it ain't no thang.
Her Favorite Emojis Are A Toss-Up
I, too, have trouble deciding between "heart-eyes" and "monkey-with-its-eyes-covered." Johnson uses them both on the reg.
She's Got A Dangerously Cute Pup
Six-month-old puppy and a super new baby? Bless. Her. Heart.
Phelps Proposed to Her In The Snow
It's not quite Rio, but it'll do!
Her Baby Has His Own Instagram
@Boomerrphelps is only one month old and has 15.3k followers. Sigh.
Phelps is the first male swimmer to make it to five Olympic games, and it's no wonder why — aside from his obvious athletic prowess, he's got quite the home team cheering him on. Boomer was dubbed the "royal baby" of the Olympic trials, so you're sure see plenty more of him, and Johnson, in Rio this summer.