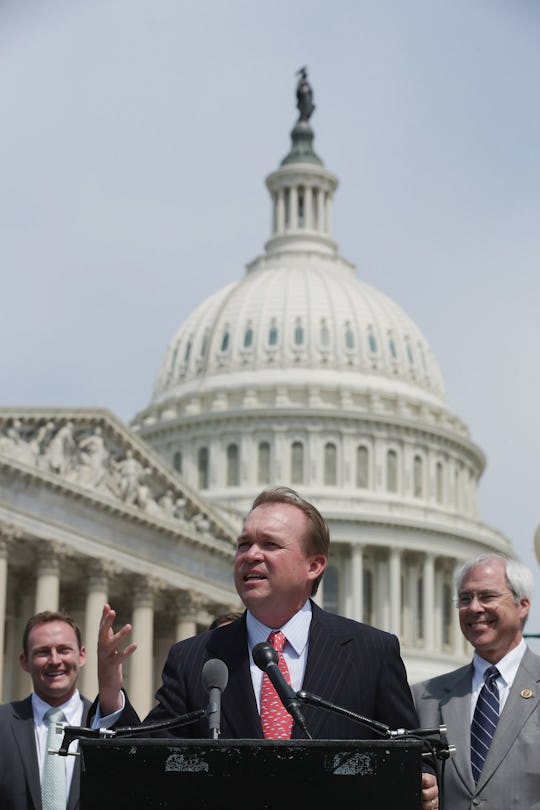 Chip Somodevilla/Getty Images News/Getty Images
Who Is Mick Mulvaney? Trump Taps The Conservative Lawmaker for White House Budget Chief
President-elect Donald Trump has been incredibly busy. As he continues to work with his transition team to assemble his future Cabinet, Trump is making some interesting choices that are causing a bit of a stir. Trump's most recent pick? He has tapped conservative lawmaker Mick Mulvaney for White House budget chief.
Trump announced he had chosen South Carolina Rep. Mulvaney for White House budget chief on Friday, and said in a statement:
We are going to do great things for the American people with Mick Mulvaney leading the Office of Management and Budget. Right now we are nearly $20 trillion in debt, but Mick is a very high-energy leader with deep convictions for how to responsibly manage our nation's finances and save our country from drowning in red ink.
MSNBC reported that Mulvaney is a fiscally conservative Republican and was elected during the Tea Party wave in 2010. He was a vocal critic of the Obama administration, and made a vow as a member of Congress not to raise the national debt while in office. Mulvaney reportedly favors deep spending cuts, and much like President-elect Trump, is strongly anti-establishment. The GOP lawmaker accepted Trump's offer and said that it is his plan to restore "budgetary and fiscal sanity … after eight years of an out-of-control, tax-and-spend financial agenda."
While Mulvaney might be a fiscal conservative, his tight-fisted budget plans might go against the president-elect. Trump told Time magazine in an interview last month, when he was chosen "2016 Person Of The Year" that he believed some spending during his time in the White House in order to get the economy moving again.
Well, sometimes you have to prime the pump. So sometimes in order to get jobs going and the country going, because, look, we're at 1 percent growth.
The 49-year-old Mulvaney will be responsible for reviewing the budgets of federal agencies if the Senate approves his appointment to White House budget chief. He said in a statement:
Each day, families across our nation make disciplined choices about how to spend their hard-earned money, and the federal government should exercise the same discretion that hard-working Americans do every day.
In the past Mulvaney, who holds a degree in international economics from Georgetown University as well as a law degree from the University of North Carolina at Chapel Hill, has said he would favor shutting down the government rather than opting to increase spending.
Mulvaney has been representing South Carolina's fifth congressional district ever since 2011, and in 2013 made a name for himself when he refused to support Speaker of the House John Boehner, according to The New York Times. He decided to abstain from voting as a form of protest.