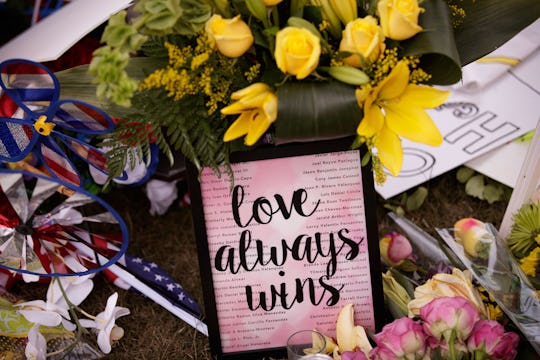 Drew Angerer/Getty Images News/Getty Images
Who Is Paul Terrell Henry? The Father Of Two Lived Life To The Fullest
It has been five days since the devastating mass shooting at Pulse nightclub in Orlando, but it in many ways it feels like it was just yesterday. Five days when we have made it our priority to learn the names of every victim, learn a little about who they were, what their lives looked like, what they loved. One of the victims, Paul Terrell Henry, seemed to love just about everything and everyone under the sun.
As his boyfriend Francisco Hernandez told The Orlando Sentinel, Henry loved to dance. He loved his family, especially his two children (one of whom, Alexia, recently graduated from high school). The 41-year-old also loved learning and was preparing to return to school. Until he was gunned down at Pulse nightclub by lone gunman Omar Mateem, along with 48 other victims. To honor Henry's memory, Hernandez has decided to return to school, according to The Sentinel.
"He knew I had the potential for greater things,'' a heartbroken Hernandez said. "I had three years of college but didn't finish. He wanted the best for me, to succeed and to help me make something of myself."
Paul Henry was a native of Chicago, and had been looking forward to Latin Night at Pulse last Saturday and spending the night doing what friends say he did best: dancing and making people laugh.
Bettye Edwards of Oviedo told The Orlando Sentinel that she and Henry had tried to start a church together a while back. With Henry's love of music and devotion to God, not to mention his ready smile and love of people, it seemed like a good fit for a time. "Paul was a go-getter,'' Edwards said. "He was always very busy, always trying to reach the next level.''
She posted a video of Henry singing "Take My Hand, Precious Lord" on YouTube in 2010.
Another friend and co worker remembers Henry as being full of life. Danielle Biggars told The Sentinel that she worked with Henry at Orange Lake Resorts as a sales representative.
"He was the life of the call center,'' Biggers said. "He always would make sure he would say hello. He just was over the top and made everybody smile.''
Henry's boyfriend Hernandez agreed. In an email to The Orlando Sentinel, he said "his smile" would be the one thing he would always remember about Henry.
Paul Terrell Henry will be remembered by so many people. His children, his family, his friends. And those of us who never got the chance to meet him, but will remember his name all the same.