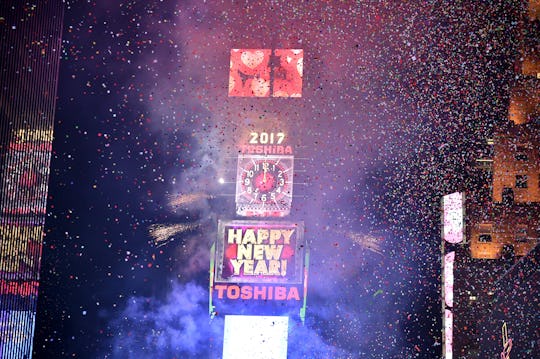 Theo Wargo/Getty Images Entertainment/Getty Images
The New Year's Eve Ball Drop Will Include An Important Cameo
Every December 31 when the ball drops in Times Square to herald the beginning of a brand new year, there's someone pushing the button to make it happen. It's an honor to be the one who helps the world take the jump from one year to the next, but who has earned the spot this year? Who is pushing the New Year's Eve ball drop button? This time the choice has a lot of relevance to the stories that have been dominating the news for months.
Tarana Burke will be the one hitting that button and setting off the New Year celebration. You might be unfamiliar with her name at first glance, but you've definitely heard of her work: Burke is an activist who founded the Me Too campaign back in 2007, and the hashtag has taken over the world since stories of sexual assault have begun to flood the internet following the allegations against Harvey Weinstein.
In a press release, Burke expressed her excitement over taking part in the ball drop. "I am delighted to be participating in this momentous occasion," she said. "I think it's fitting to honor the Me Too movement as we close a historic year and set our intention for 2018. With the new year comes new momentum to fuel this work and we won't stop anytime soon."
The president of the Times Square Alliance, Tim Tompkins, explained the reason behind the choice in the press release. "New Year's is a time when we look at the most significant cultural and political moments of the last year, when we look for inspiration by honoring and giving a global platform to those who have made a difference," he said. "Tarana Burke's courage and foresight have changed the world this year, and, we hope, forever. We are honored to have her be part of the 2018 New Year's celebration."
There's no denying that the #MeToo movement has dominated the public consciousness for weeks. The waterfall of allegations against public figures brought to light information that had only been rumored before, and perhaps for the first time it seemed that victims were truly being heard. Many people who had been dismissed or not believed in the past were finally being given the platform they needed to tell their stories, which inspired even more survivors of sexual assault to come forward. That supportive community was thanks in part to Burke's work over the years.
In addition to being the founder of Me Too, Burke is the Senior Director of Girls for Gender Equality and she was recently honored by Time Magazine for her contributions. The sexual assault silence breakers were named Time's Person of the Year 2017, Burke among them. The phrase "me too" rose to prominence after a friend suggested it to actress Alyssa Milano and she tweeted an encouragement for everyone who had ever been assaulted or raped to tweet using it (if they were comfortable doing so). But Burke has been using it for at least a decade already.
She told CNN this year, "It's not about a viral campaign for me. It's about a movement. On one side, it's a bold declarative statement that 'I'm not ashamed' and 'I'm not alone.' On the other side, it's a statement from survivor to survivor that says 'I see you, I hear you, I understand you and I'm here for you or I get it.'"
The movement has grown so much that Burke's name isn't necessarily immediately connected with it; #MeToo has formed a network of millions. But she created the words that have become so powerful and she's worked for years to make sure victims are heard and supported. She's the perfect person to ring in the new year.
Check out Romper's new video series, Romper's Doula Diaries:
Watch full episodes of Romper's Doula Diaries on Facebook Watch.