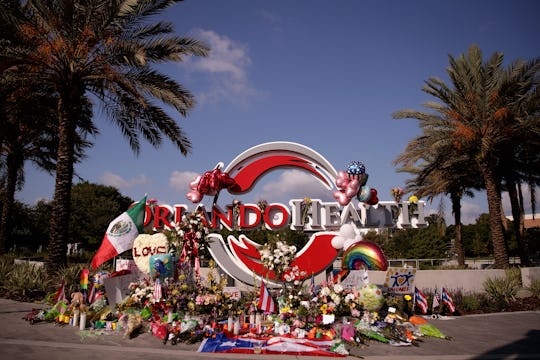 Drew Angerer/Getty Images News/Getty Images
Who Is Tevin Eugene Crosby? A 25-Year-Old Business Owner & True Leader
Tevin Eugene Crosby was one of the 49 victims who lost their lives in the Orlando shooting at a gay night club in the early hours of Sunday morning. The targeted attack on the LGBTQ community on "Latin night" at the club called Pulse, has left families, loved ones, and many people affected around the world, grappling with the deadly outcome of such a hateful, and cowardly attack. Who is Crosby? He was a 25-year-old business owner who spread messages of positivity.
On Crosby's Facebook page, now a page dedicated to honoring his memory, his timeline posts reflect his hard working and ambitious spirit, and a desire to embrace and spread positivity. In one post on May 26, Crosby shared his love for his colleagues by using the hashtag #LoveMyTeam.
And this uplifting attitude was apparently common for Crosby.
Crosby grew up in Statesville, North Carolina, and studied business administration at Strayer University. According to the New York Times, Crosby started his own company, Total Entrepreneurs Concepts, in Saginaw, Michigan. Brian Reid, who worked as a recruiter at Crosby's company, described the 25-year-old as family.
"He knew what he wanted in life and he went out and got it," Reid said according to the Times. He described what it's been like for Crosby's colleagues since the deadly club shooting. "I would say the morale is really low," Reid said. "Everybody is upset. He was a boss, but we are all like family. We were very, very close."
On his Facebook page, Crosby recently shared his company's press release that was published on Yahoo Finance. The release shared details of his company's success:
Leading the pack, Director of Operations, Tevin Crosby has grown the Saginaw market by 67% in the last year. By the end of 2016, Total Entrepreneurs Concepts is projected to sign a third national brand, continuing to catapult the organization to new heights. As demand from their national clients continues to grow, Tevin gears up to assist a Total Entrepreneurs Concepts associate, Jerome Lewis, in an expansion to another local market. The location of the new branch will be unveiled by the end of the summer.
The initials for Total Entrepreneurs Concept are meant to reflect Crosby's initials: T.E.C, the Times reported.
The Times reported that Crosby had recently traveled to his hometown in North Carolina to attend a niece's graduation, before visiting Orlando. His brother, Chavis Crosby, described his brother as ambitious and goal-oriented.
"He was very ambitious," Chavis said according to the Orlando Sentinel. "Whatever goal he had in mind, he worked hard. Whether alone or on a team, he worked on that goal."
Crosby, a 25-year-old who worked hard and achieved much success, is mourned by family, loved ones, and many following his story. It's important to keep his legacy and uplifting spirit alive.