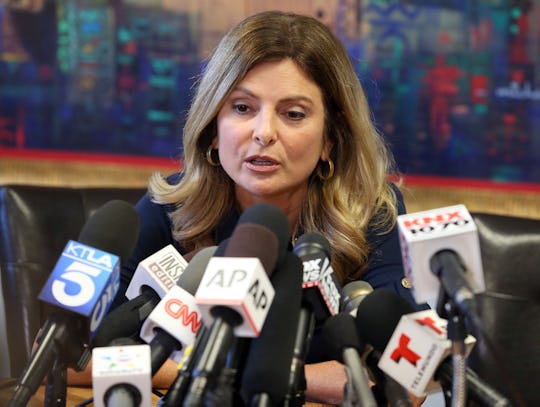 Frederick M. Brown/Getty Images News/Getty Images
Who Is The Woman Who Alleges Trump Raped Her At 13? Threats Kept Her From Speaking Out
Among the allegations of sexual assault that have been lobbed at presidential nominee Donald Trump, one case has remained a bit of a mystery. The woman accusing Trump of raping her when she was a teenager was set to come forward this week, but backed out at the last minute. Who is the woman who alleges Trump raped her at 13? We may never know what really happened or her true identity.
The woman, known only as Jane Doe, had planned to come forward to reveal her identity in a press conference to be held in Los Angeles on Wednesday. Doe has alleged that, on several occasions in 1994, she was sexually assaulted by Trump, according to a lawsuit she filed earlier this year — one that that was ultimately dismissed due to technical filing errors. A request for comment by Romper to Trump's campaign on Jane Doe's allegations has not been returned.
Doe had intended to come forward and reveal her identity in a press conference, but backed out shortly before the press conference was planned on Wednesday, through her attorney Lisa Bloom. In a statement to the press, Bloom said, according to The Guardian:
Jane Doe has received numerous threats today as have all the Trump accusers that I have represented. She has decided she is too afraid to show her face. She has been here all day, ready to do it, but unfortunately she is in terrible fear. We're going to have to reschedule. I apologize to all of you who came. I have nothing further.
The statement issued by Doe's attorney echoes the experience of several women who have come forward this year to allege that they were sexually assaulted by Trump, only to be exposed to a torrent of threats and public humiliation.
Jane Doe, however, has not revealed her identity and her case remains unsubstantiated. A New York judge has ordered Trump's attorney to appear in New York District Court for an initial status council in the civil suit on Dec. 16. This court date would come more than a month after the Nov. 8 election. One of Trump's lawyers told The Guardian in July: "This is basically a sham lawsuit brought by someone who desires to impact the presidential election."
Trump himself has commented in the past that the multiple allegations of sexual assault "are all fabricated. They're pure fiction and they're outright lies. These events never, ever happened. These vicious claims about me of inappropriate conduct with women are totally and absolutely false," according to CNN.
While the details of Jane Doe's story may never be known, more than a dozen other women have shared their's over the last few months. With less than a week left until the election, voters will have to decide for themselves if the allegations against Trump will impact their decision at the polls.