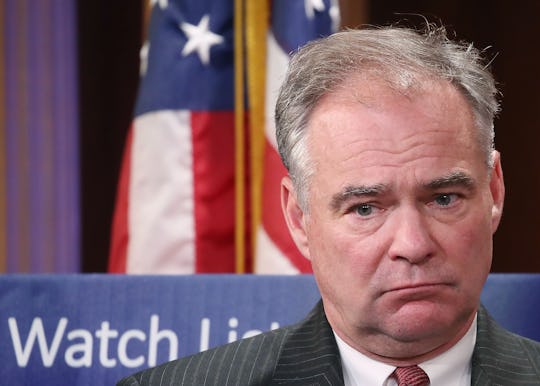 Mark Wilson/Getty Images News/Getty Images
Who Is Tim Kaine? He May Not Be Clinton's 'Safe' Potential VP Anymore
As Hillary Clinton's veepstakes intensifies ahead of the Democratic National Convention in late July, one Virginia politician has emerged as a particularly strong candidate. Political commentators have both lauded and criticized Democratic Sen. Tim Kaine as a "safe" pick, but revelations that he legally collected more than $160,000 in gifts during his tenure as lieutenant governor and governor between 2001 and 2009, as Politico reported Thursday, are shaking that characterization. (Romper has reached out to Tim Kaine's office about this development and will update the story if and when it receives a response.)
On a recent appearance on NBC's Meet the Press, the 58-year-old former Richmond mayor and onetime DNC chairman flat-out referred to himself as "boring." "But boring is the fastest-growing demographic in this country," he told Chuck Todd.
He may not court controversy, but Kaine certainly has the political bona fides to be the next vice president. New Republic's Alex Shepherd called him "supremely qualified" as well as a "pragmatist with an ear for compromise and an aversion to rocking the boat." Kaine has a 100 percent rating from Planned Parenthood for his Senate votes, despite his personal opposition to abortion, and he showed his support for immigration reform when, in 2013, he delivered a speech entirely in Spanish on the Senate floor for the first time in United States history.
If Kaine were to vacate his Senate seat to join Clinton on the campaign trail, a Democratic governor would decide who would fill it, meaning that his absence likely wouldn't cost Democrats traction in Congress like Massachusetts Sen. Elizabeth Warren's would.
The gifts Kaine accepted are receiving renewed scrutiny as his momentum as a possible Clinton running mate builds, and the result doesn't seem safe at all. He did not breach Virginia's lax ethics code when he enjoyed an $18,000 Caribbean vacation from Virginia-based tech investor, for example, and a trip to the NCAA basketball Final Four at the expense of an electric company that lobbies the state. He had, in fact, disclosed all of these gifts, and his people maintain that he received nothing in return.
But it certainly doesn't do anything to make him a more attractive potential addition to the Clinton ticket. "The danger here is that there's already a narrative on Hillary Clinton: It's crooked cronyism, and any pick or any other action that drives that narrative is going to be bad for her," Matt Moon, executive vice president of opposition research consulting firm Delve, told Politico. "If you're on the Clinton campaign side, you want to look at potential vulnerabilities in how a VP pick would drive an opposition narrative."
Despite appearances, a Kaine spokesperson defended the former governor's previous actions:
During his eight years as lieutenant governor and governor, Sen. Kaine went beyond the requirements of Virginia law, even publicly disclosing gifts of value beneath the reporting threshold. He's confident that he met both the letter and the spirit of Virginia's ethical standards.
So far, no one's disputing that. But even before Politico reminded the voting public that of Kaine's gift-accepting practices, there have been rumblings about whether Clinton's decision to name Kaine her VP would alienate Bernie Sanders supporters. For example, Kaine supports the President Obama's Trans-Pacific Partnership trade deal, which Sanders and his supporters reject as a means to enhance corporate power.
Kaine does have a snappy nickname, though — he's TKaine, not to be confused with T-Pain — and he talked about the importance of teamwork in on that Meet the Press interview on Sunday. Also, he's all for an assault weapons ban, but he's a realist:
I have voted for it and would likely vote for it again. But here's a practical problem that I think you're aware of. As soon as you define what an assault weapon is, you know, you can't sell a weapon, and here's how we describe it, gun manufacturers just make one adjustment or two, and they say, 'See, this isn't subject to the limitation.'
Clinton's people are surely vetting all possible vice presidential candidates rigorously, and Kaine is still very much in the game. The golden rule of VP selection is "do no harm" to the presidential candidate's chances, and Kaine as the safe bet he was certainly seemed to fit the bill. The fact that he legally accepted gifts previously could flip the script, but if 2016's taught us anything so far, it's that politics is unpredictable. Stay tuned.