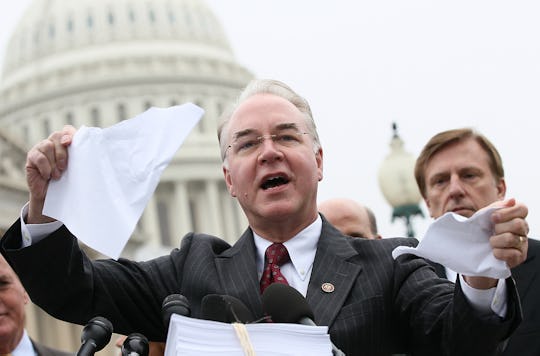 Win McNamee/Getty Images News/Getty Images
Who Is Tom Price? He's Reportedly Earned A Spot In Trump's Cabinet
Politico reported on Monday evening that Georgia Rep. Tom Price will likely be named secretary of health and human services (HHS), a highly visible position within President-elect Donald Trump's cabinet. According to "several Republican sources," the appointment might come as early as Tuesday. So for those not in the know, who exactly is Tom Price? As a congressman and physician, Price made a name for himself through his vocal opposition to the Affordable Care Act (ACA).
News of Price's likely HHS appointment first appeared in the local Atlanta Journal-Constitution, and has since been confirmed by multiple sources speaking with The New York Times, The Guardian, and Politico. Price, who was considered a front-runner for the position, began his political career as a Republican representative in Georgia's state senate, where he served four terms. In 2004, Price was elected into the U.S. House of Representatives, where he continues to serve today. Prior to his lengthy career in politics, the 62-year-old worked for 20 years as an orthopedic surgeon, according to Price's government biography.
As a Republican congressman during President Obama's tenure, Price distinguished himself as one of the few politicians with a concrete plan for replacing the ACA. According to The New York Times, Price "has introduced bills offering a detailed, comprehensive replacement plan in every Congress since 2009, when Democrats started work on the legislation."
Price has a longstanding record of opposing abortion rights, according to a tally of his positions at OnTheIssues. He was chairman of the Republican Study Committee between 2009 and 2010, which Bloomberg calls "a caucus of the most conservative members in the U.S. House." More recently, Price has served as chairman of the budget committee, where he has been a proponent of limited government spending.
In Congress, Price has frequently allied with Speaker Paul Ryan, who has likewise led the years-long crusade against Obamacare. Together, Ryan and Price have alluded to privatizing Medicare as part of the changes that might come with a Republican overhaul of health care. Earlier this month, Price told reporters that a Medicare overhaul could be expected "within the first six to eight months" of Trump's administration.
Price's vision for Medicare was described last week in The New York Times as a shift "from its open-ended commitment to pay for medical services and toward a fixed government contribution for each beneficiary." In other words, seniors would be provided with a government voucher for a fixed amount in medical services, with the beneficiaries paying for amounts that exceed the voucher. Congressional Republicans are calling this system "premium support," while opposing Democrats insist that it's a voucher system. Under the proposed premium support plan, services currently covered by Medicare would "compete directly with plans offered by private insurers like Humana, UnitedHealth Group and Blue Cross Blue Shield," according to The Times.
After Trump's election, many have wondered about the fate of the ACA. Price's appointment as HHS secretary signals the likelihood of an ongoing commitment to repeal and replace the landmark health care law.