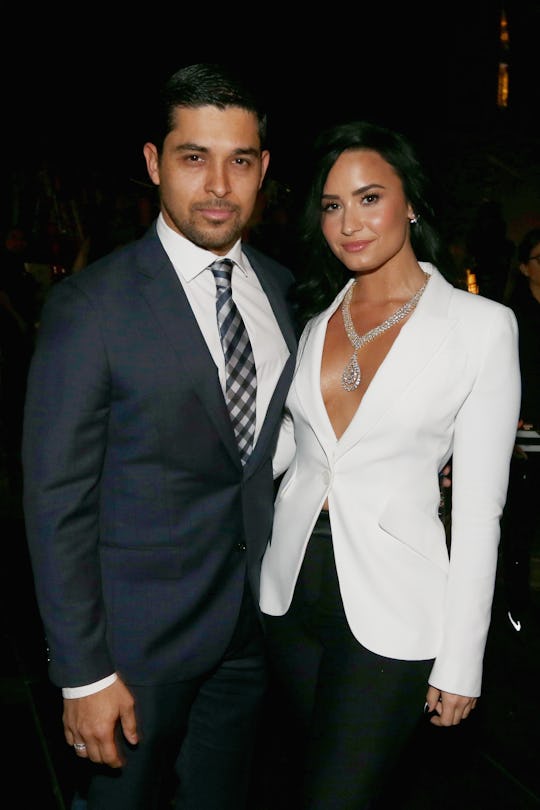 Christopher Polk/Getty Images Entertainment/Getty Images
Who Is Wilmer Valderrama Dating? He's Been With Demi Lovato For Years
Wilmer Valderrama played a rock star on Thursday night's episode of Grey's Anatomy and he totally...rocked it. Wilmer played the musician, Kyle, who had multiple sclerosis, causing him to have a hand tremor. Kyle was undeniably hot, just like Wilmer, and couldn't stop himself from flirting with every female doctor in his general vicinity. Thankfully that's not how Wilmer is in real life. But it certainly begs the question: Who is Wilmer Valderamma dating? Turns out, unlike his character, the real guy only has his eyes on one woman: Demi Lovato.
Wilmer and Demi have been dating on and off for the past six years and they're absolutely couple goals. Demi has admitted she had a crush on Wilmer since they first met, but because he's 13 years older than her he made her wait before they started dating.
But now the waiting is over and these two are always attached at the hip. Well, when they're not both busy working that is. Wilmer is currently pulling double duty right now on Minority Report and From Dusk Till Dawn, while Demi is working on her music and preparing to go on tour with Nick Jonas. Still, although they both have busy schedules, they never fail to make time for each other and take cute pictures with each other.
These two are so close that fans began to think the two were engaged around Valentine's Day when Demi posted a picture of a ring Wilmer got for her. Much to their fans disappointment, Demi quickly cleared things up by stating that the ring wasn't an engagement ring, but instead just a really nice ring.
Still, there's no wonder why fans might thing these two seem well on their way to marriage. They've been together for a long time and anyone with eyes can see how much they love and care about each other. It's even evident in the way they support each other's work. When it was announced that Wilmer was going to appear on Grey's, Demi made a quick Tweet about how proud she was and we were all reminded of when she appeared on Grey's a few years ago.
These two are the perfect pair and I'll happily admit that I'm rooting for them to go the distance.