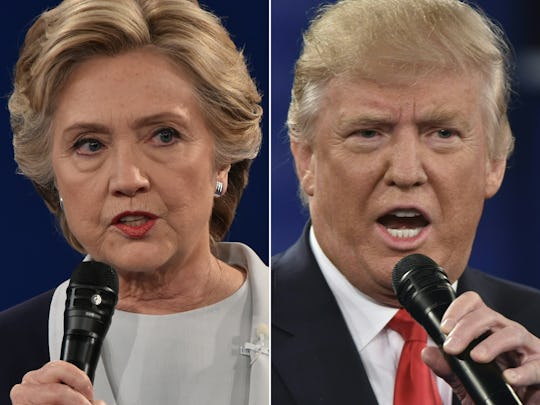 PAUL J. RICHARDS/AFP/Getty Images
Who Lost The Second Presidential Debate? Both Clinton & Trump Had A Lot Of Eyes On Them
All eyes were on the second presidential debate on Sunday night; how could they not be? Donald Trump gave the country a gift — and about two months worth of Twitter material — when a hot-mic video from a 2005 Access Hollywood was unearthed. While it rose to prominency, some things tragically fell (Billy Bush's career is teetering on the middle of a see-saw, currently). Other things that were down were Donald Trump's poll numbers compared to Clinton's, which led us into Sunday's town hall. So who lost the second presidential debate? Once again, it's tough to say after, but Clinton certainly didn't lose.
The second debate — which didn't consist of Tim Kaine and Mike Pence having a seated pow-wow, thank god — was town hall style. This meant that half of the questions were submitted from the American public before the debate, while the other half came from real (!) people (!) in the audience (!). If you're thinking, Wow, Trump's Access Hollywood tapes were released days before a live-action debate when real people just like me could grill him on his comments... What a time to be alive, then you'd be absolutely right. Sunday was exactly what it needed to be — a stage for Trump to apologize, and a moment for Clinton to show the American people that she is there for business.
Let's boil it down to the facts. Early on in the debate, Trump was approached with the tapes. The Tapes, if you will. Trump didn't apologize to the right people at this time. For what it is worth, he apologized to "his family" and the American people. He said that the comments on the tape are "just words." He seemed to miss the point — "words" or not, the conversation was completely uncalled for. Instead of apologizing to the women involved in the tape, Trump excused his behavior for "locker room talk." People didn't like that, of course. Don't believe me? Spend a quick three minutes on Twitter and see what I'm talking about. In contrast, Clinton continued to call out Trump for his previous comments regarding women, not just from the tapes, but also over the past decades. Again, this is exactly what Clinton HQ was putting on their dream board, Secret-ing it into reality.
The Los Angeles Times noted that Clinton did win the debate, while CNN correspondents fairly noted that even if Clinton did a good job, Trump's camp may be happy with his show tonight (which doesn't mean he won, he just survived). Right now, the Trump camp probably needs to be happy about something, since this past weekend was not easy for them. The Washington Post made waves, tsunamis, and tropical storms in the political sphere on Friday when they released the video that basically got the entire world talking. From there, their colleagues with other news outlets followed suit. For instance, CNN released decade-old comments Trump made about women on Howard Stern's show.
This outcome of Trump reluctantly waving the "Loser" flag doesn't come as much of a surprise considering the week he had. Right now, Trump needs to do everything right, but thanks to something called "October Surprise", Trump is basically doing everything wrong. When you're a month clear of the presidential election that you are running for, the best thing to do is not get embroiled in a scandal that has a huge chunk of your party pulling support from you. Then again, I was just Vice President of my high school class (potentially more experience "in office" than the man in question).
Of course, it is important to note that not everyone saw this debate as black and white. People on Twitter were clearly torn, although it is important to note party ties potentially remain strong when tweeting about who won and who didn't.
As for the polls — because, despite what some presidential candidates might think, those things with the numbers matter all the time and not just when the numbers are in your favor — CNN/ORC poll (which comes from debate watchers) came in in favor for Clinton. The audience does skew more democratic, which is important to note. The numbers were 57 percent in favor of Clinton.
An undecided bunch from Ohio spoke with CNN and it was revealed that the majority thought Clinton won the debate, while only one thought Trump won the debate. It is important to note that there was a large chunk of undecided voters who didn't know who won. They didn't like Trump's response toward the tape — in fact, the majority of them didn't think that Trump did enough to rectify the damage done from the tape.