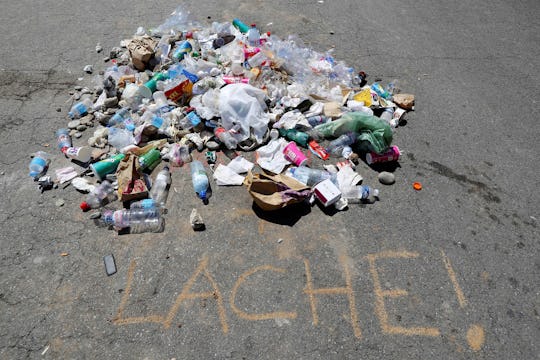 VALERY HACHE/AFP/Getty Images
Who Was Nicolas Leslie? The UC Berkeley Student Died In The Nice Truck Attack
When no one could locate an American undergrad who was present at the Bastille Day celebration in France that became the site of a terrorist attack that killed 84 people, his family went searching for him. But just days after the Thursday rampage during which a man in a 19-ton refrigerated truck plowed through crowds in the seaside city of Nice, those frantic to know the fate of Nicolas Leslie learned the UC Berkeley student had died in the attack. A 20-year-old junior studying environmental science, Leslie had traveled to France as part of a study abroad program and became the second University of California student killed in a terror attack this summer.
Before French officials confirmed Leslie's death Sunday, "Missing" fliers bearing his photo were displayed along the beach and Nice promenade, NBC News reported. It's now clear that he was the only one of the 85 participants in his summer entrepreneurship program in Nice to die in the attack, so his university community is beginning to mourn him as they continue to grieve Tarishi Jain, a UC Berkeley sophomore. Jain was killed in a terrorist attack on a restaurant in Dhaka, Bangladesh, earlier this month, according to The New York Times.
According to NBC Bay Area, friends who had been with Leslie when the truck stormed through the post-fireworks festivities said they had not seen him get hit by the truck, but that he had been separated from the group in the ensuing stampede. He didn't make it, and UC Berkeley Chancellor Nicholas Dirks — undoubtedly horrified that two of his students lost their lives to terror in just two weeks — offered words of comfort and outrage in a statement:
This is tragic, devastating news. All of us in the UC Berkeley family — both here on campus, and around the world — are heartbroken to learn that another promising young student has been lost to senseless violence. I join Nick's parents, friends and the entire campus community in condemning this horrific attack, and in mourning the loss of one of our own.
An only child, Leslie was "a wonderful, caring young adult, extremely motivated," a family friend identified only as Antonella told The Los Angeles Times. He was originally from Milan, Italy, but he, along with his family, lived in Del Mar, in San Diego County in Southern California. The student's Italian aunt and uncle, who live in Europe, were checking hospitals in Nice in an attempt to find Leslie before the news that he had been killed was confirmed, The Wall Street Journal reported.
Leslie, whom Antonella said was "adored by everyone" had been planning to start studying at the Haas School of Business in the fall, according to The New York Times. But because of one horrific, harrowing attack on what was supposed to be a night of celebration, he'll never have the chance.