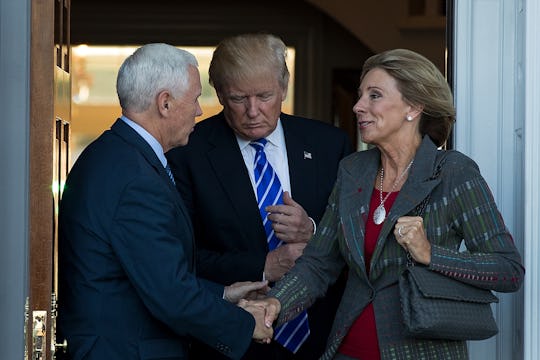 Drew Angerer/Getty Images News/Getty Images
DeVos' Confirmation Savior Will Swear Her In
Wasting absolutely no time at all, President Donald Trump's now-confirmed education secretary was set to be instated on Tuesday night, in a formal capacity. It had many wondering: Who will swear-in Betsy DeVos? Apparently, Vice President Mike Pence, who gave the final, tie-breaking vote that handed DeVos the position, was given the honor. The ceremony was originally scheduled for 5:30 p.m. Eastern Time, but the actual event occurred a bit later.
DeVos did not earn the Cabinet position easily. Facing complete Democratic —and some Republican — opposition in the Senate, it seemed, momentarily, that she might not be confirmed at all. Every Democrat opposed DeVos, along with two Independents (Bernie Sanders of Vermont and Angus King of Maine) and two Republicans (Susan Collins of Maine and Lisa Murkowski of Alaska). Enter Pence, who disrupted the Senate's 50-50 split.
Under such specific circumstances, the vice president, who also functions as the president of the Senate, is given the privilege of casting the last, decisive vote. Following the contentious Senate vote, Pence supported DeVos in a tweet, writing: "Today's vote to confirm Education Secretary Betsy DeVos was a vote for every child having a chance at a world-class education."
DeVos' confirmation was fought by senators and citizens for multiple reasons. First, her lack of experience and complete lack of interaction with public schools (having not even sent her children to them at any point) combined with a lack of experience in government makes her a confounding choice. Second, her confirmation hearing revealed obvious gaps in knowledge about federal versus sate law, not to mention her now-viral comment about a probable need for guns in rural schools, in which she stated, "I would imagine that there is probably a gun in the schools to protect from potential grizzlies."
Pence administered DeVos' oath of office at 6 p.m. Eastern Time. In his remarks before the ceremony, Pence compared DeVos' background to his own and lauded her, saying:
When I cast my first vote in the United States' Senate, though, I wasn't just voting for you. Having seen your devotion to improving the quality of education for some of our most vulnerable children across the nation, for so many years, I was also casting a vote for America's children. And I can tell you — my vote for Betsy DeVos was the easiest vote I ever cast.
After the vote, DeVos tweeted out: "I appreciate the Senate's diligence & am honored to serve as Secretary. Let's improve options & outcomes for all US students."