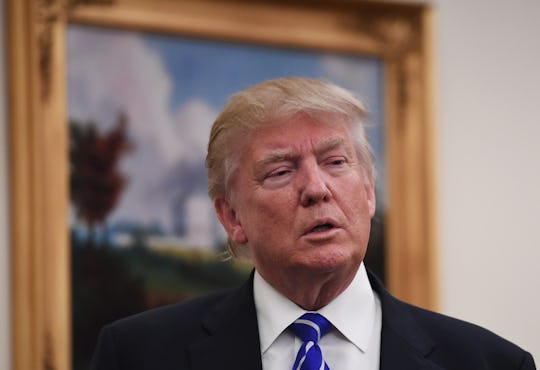 JEWEL SAMAD/AFP/Getty Images
Who Will Trump's Secretary Of State Be? His Shortlist Seriously Lacks A Female Presence
As the White House transitions into a Trump presidency and a predominantly Republican representation, many are understandably curious and perhaps concerned about who Donald Trump will choose to serve on the next administration. One of the most important positions to be replaced by Inauguration Day is the next Secretary of State, which is currently held by 72-year-old John Kerry for the Democratic Party and was previously held by Trump's former presidential rival Hillary Clinton. So, who will Trump's Secretary of State be? While the president-elect's reported and unofficial shortlist for the position is presumably considering a group of qualified and controversial candidates, it seriously and completely lacks a female and minority presence.
According to The New York Times, Trump's Secretary of State — which is essentially the president's chief adviser on foreign affairs — could be one of five candidates:
John R. Bolton, who is the former United States ambassador to the United Nations under George W. Bush
Bob Corker, a Tennessee senator and chairman of the Senate Foreign Relations Committee
Newt Gingrich, who was the Republican Speaker of the House of Representatives
Zalmay Khalilzad, a former United States ambassador to Afghanistan
Stanley A. McChrystal, a former senior military commander in Afghanistan
As for the biggest challenge Trump when choosing who to fill this position, that will be the revamping State Department, which according to The New York Times, "is the centerpiece of the post-1945 experiment of alliance-building and globalism, which Mr. Trump said he would dismantle."
Gingrich's name has been floating around for some time as a top contender for the position. The former presidential candidate and Speaker of the House has been a major Trump ally throughout his controversial presidential campaign, but it's been thought to be an odd pick because Gingrich's record on foreign policy is very different from Trump's stances, specifically their ideas on foreign trade and immigration reform.
So some Republican political analysts don't think Gingrich would be the best choice because he might have an agenda that differs from Trump's.
"The worst thing in the world is to put Newt Gingrich on an airplane, make him Secretary of State," Ed Rollins told Fox News, who is a GOP political consultant, former assistant to President Ronald Reagan, and Trump supporter. "He would be conducting his own foreign policy and that's not what you want. You want someone who will basically help Trump develop his foreign policy and make sure Trump is always the man in charge."
While the media has compiled a list of presumed candidates based on rumors and past comments from Trump, the president-elect promised that he will "soon" decide who will be on his administration.
"Busy day planned in New York," Trump tweeted on Friday. "Will soon be making some very important decisions on the people who will be running our government!"
If any of the reported candidates takes the position, it's not likely that any of them will be an all-around favorite or the decision will sit well with every American. There's been little insight from Trump himself about his possible cabinet, but if this election has taught us anything it's entirely possible that another surprising result has yet to come.