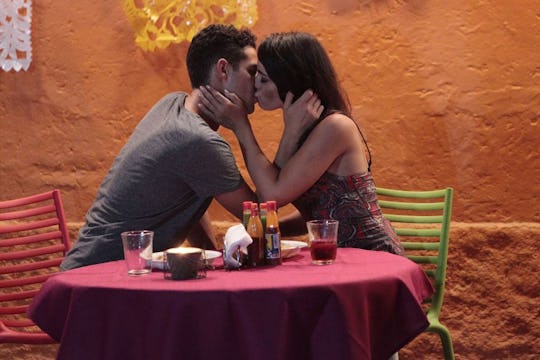 ABC/Rick Rowell
Who Will Wells Choose On 'Bachelor In Paradise'? He Has 3 Women Interested Im Him
I think we can all agree that seeing Wells finally make his entrance on Season 3 of Bachelor in Paradise came almost too late in the season. Judging by the fact that after one episode he was already juggling three women, he's obviously a lot more popular than we all thought. But who will Wells choose on Bachelor in Paradise? There are three women who seem to all be equally as interested in him. And all of the women currently vying for his love and attention are very different from each other, making his dilemma that much harder.
Let's get it out there right now that Wells is probably one of the sweetest guys who's been part of Bachelor Nation lately and also a seemingly genuine guy. So it's not really a surprise that Wells is popular in paradise right off the bat. But who will Wells choose on Bachelor in Paradise? The better question might be, at this point, does it even matter? If this whole Wells love square (because a triangle just isn't happening) thing occurred at the beginning of the season, we would have become that much more invested in it, but the next episodes will be part of the season finale of Bachelor in Paradise, so whoever Wells chooses might just get bragging rights.
Still, between the three women currently interested in Wells on Bachelor in Paradise, it's hard not to wonder who would be the best match for him.
Ashley
Ashley I. has been on shaky ground since her arrival in paradise this season, and that transferred into her budding relationship with Wells. He was worried from the beginning about being used as a pawn to make Jared jealous, but Ashley instead just latched onto Wells as her new interest and decided to hate all of the other women interested in him, just as she'd loathed Caila so much.
Jami
Jami's main goal when when she got to paradise was to go on a date with Wells and production must have known this, because he was literally the only person around when she arrived. But their date of going mudding in a dune buggy, then swimming and nerding out together made it seem like they'd make a pretty adorable couple.
Shushanna
Once again, Wells was number one on a new cast member's radar as soon as she arrived. And because of Shu's very sexy and, in Wells's words, Bond-like quality, he was instantly attracted to her. I don't know if thinking someone is hot is the best foundation for a solid relationship, but this is Bachelor in Paradise.
Look, Wells can choose the parrot at this point, but we're just happy to have him because he should have been a part of Bachelor in Paradise much sooner than he was this season.