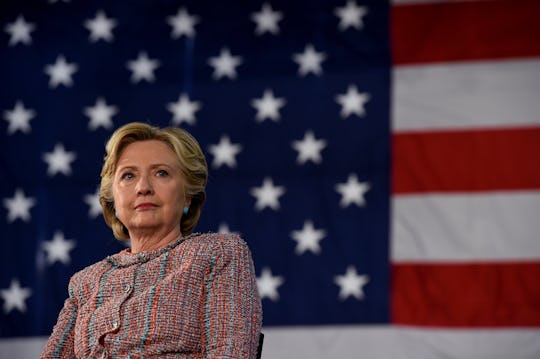 TIMOTHY A. CLARY/AFP/Getty Images
Who Would Pay For Clinton's Child Tax Credit Plan? It Could Be Huge For Low-Income Parents
Under the current tax policy, families that earn less than $75,000 for single filers or $110,000 for married couples filing jointly earn a $1,000 tax credit for each child under 16 in their household. On Tuesday, Hillary Clinton announced that she wants to double that amount for families with children 4 years old and under, but who would pay for Clinton's child tax credit, which would cost an estimated $150 billion to $200 billion over the next decade? According to NPR, Clinton has proposed offsetting the increase, as well as additional tax cuts for the middle class, by raising taxes for Wall Street, corporations, and the wealthy.
A couple grand will still only cover about two months of day care, which costs more than in-state tuition, according to CNN, but it's not nothing. And it would make a enormous boon to those families who make too little to owe federal taxes; they'd still receive a check from the Treasury, just like any other tax refund. In comparison, Donald Trump's child care plan relies on tax deductions rather than credits, which means that about 46 percent of households – the poorest ones – would be left out in the cold.
But will taxing Walmart, Bernie Madoff, Trump, and the like be enough to cover all those billions? According to The Tax Policy Center, it'll cover that and then some. After analyzing Clinton's full plan, it concluded that "Her proposals would increase revenue by $1.4 trillion over the next decade." Almost all of the tax hikes would fall upon the one percent, with both low- and middle-income families taking home more pay. Meanwhile, her opponent's so-called "trumped up, trickle down economics" would mainly benefit businesses and the highest-income households, and "federal debt would rise by $7.2 trillion over the first decade and by $20.9 trillion by 2036." That's... bad, right?
Trump may not be all that concerned about putting the country into massive debt; he's filed for bankruptcy himself six times. But when a nation defaults on its debts (the equivalent of a country declaring bankruptcy) it can have disastrous effects. And even a tiny default, like the U.S. Treasury had in 1979, still hurts in the long term. This isn't Atlantic City. But what good is a wealthy nation when that wealth belongs to just a tiny fraction of the population? Clinton aims to do what Occupy Wall Street has been demanding for the last five years: redistribute wealth and make America a better country for all its citizens, not just the rich.