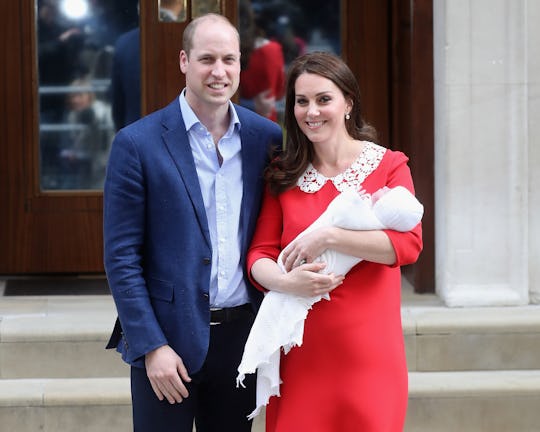 Chris Jackson/Getty Images Entertainment/Getty Images
Here's What The Guest List For Prince Louis' Christening On July 9 *Might* Look Like
While it may seem like just yesterday, it's actually been over two months since the youngest member of the royal family was born. Indeed, little Prince Louis Arthur Charles was born on April 23 in London and his upcoming christening is just around the corner. And it's a pretty big deal, since it marks the next time the world will get a glimpse of the little prince. While the rest of us will get to see photos or perhaps televised footage of the big day, it's fair to wonder about who could be invited to Prince Louis' christening and who will get to witness it all happen right before their eyes, because it's sure to be a day to remember.
In just a matter of days Prince Louis will make his next royal appearance. Kensington Palace released a statement last month confirming that the christening will take place on Monday, July 9 at The Chapel Royal, St James's Palace in London, according to People.
So, along with the little prince himself, of course, who is expected to attend the big day? While Prince Louis' parents — Prince William and Kate Middleton — as well as Kensington Palace have stayed pretty tight-lipped on the details, there are a few obvious guests who will snag an invite.
The Royal Family
The immediate family will almost certainly be at Prince Louis' christening, unless there are some serious extenuating circumstances, of course. So, that means Prince William and Kate Middleton will be there, along with Prince Louis' older siblings, Princess Charlotte and Prince George.
But, who else? According to Express, the royal family is expected to keep the christening a small and private affair, and will have no more than 20 to 30 guests. Among that figure, as Express reported, are Prince William's father, Prince Charles, and his wife, Camilla, and it's also pretty likely that the queen herself will be there.
Though Queen Elizabeth II's presence seems somewhat guaranteed, given how active she is in her royal duties, the question of whether Prince William's grandfather, Prince Philip, will be there is still up in the air. The 97-year-old royal has reportedly been dealing with some health issues recently, according to Newsweek, and was hospitalized back in April.
Prince Harry and new wife Meghan Markle are also expected to attend, but there's been some "Will they? Won't they?" talk after it was reported that the Duke and Duchess of Sussex will fly to Ireland the day after the christening, according to Express.
The Middleton Family
Another obvious addition to the guest list would be the Middleton family. Considering the fact that Prince Louis is their family, too, one could only expect that Middleton's parents, Carole and Michael Middleton, along with her siblings — James and Pippa, who will likely come with her husband, James Matthews — would attend the happy occasion.
Additionally, the Middletons were all in attendance at Princess Charlotte's christening, according to CBS News, but since Pippa and her husband weren't yet married, Matthews wasn't there. And at Prince George's christening, the same was true, the news outlet reported.
The Godparents
So, this might just be the trickiest part of the christening guest list. And it probably won't be announced until the actual day of the christening, but there are still plenty of guesses as to who Prince Louis' godparents will be. But, whoever they are, they'll definitely be invited to the christening, as in royal christenings past.
However, according to Hello! Magazine, there are a few popular guesses as to who Prince Louis' godparents will be. So far, people are estimating that Tiggy Legge-Bourke, Prince William's childhood nanny, Miguel Head, Prince William's former private secretary are the top runners of the godparent department. But really, it's anyone's guess.
Whoever is invited to the big day, one thing is obvious: the world can't wait to see little Prince Louis again on July 9.