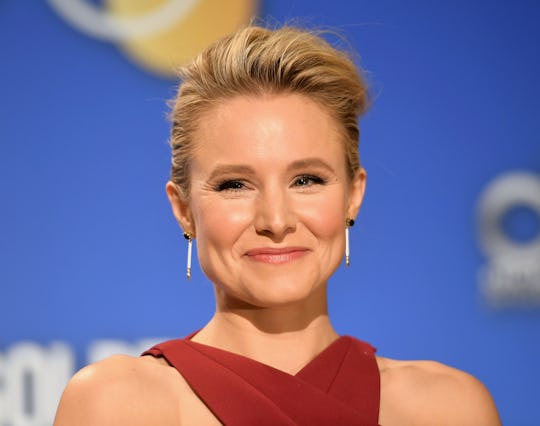 Matt Winkelmeyer/Getty
The Presenters At The SAG Awards Will Be Made Up Of All Women
The women of Hollywood have banded together to let the men of the world know that their time is up, and nowhere is this more visible than at awards ceremonies. This is why only women are presenting at the SAG awards this year. For the first time in the ceremony's history, the event will feature female-only presenters instead of the traditional male and female pairing that usually takes place. Also in a history-making move, the ceremony will have a host in the form of Kristen Bell.
A wave of sexual misconduct allegations, varying in type and severity, have hit some of Hollywood's most powerful leading men. In response, women have stood together in the Time's Up and Me Too movements as a way to stand in solidarity together against sexual assault. The decision to have strictly female presenters is reflective of that current mood.
Executive producer of the SAG Awards, Kathy Connell, told Entertainment Weekly about the reasons behind this decision, stating that she first thought of it at the Women's March back in January of 2017, and saw it as a way to salute the brave women in Hollywood. "We're an awards show. We're not trying to proselytize to anyone — the idea was to salute our women," Connell said. "So many of our women have been very, very brave, as have other women in other industries this year..."
Connell went on to explain that though the women the SAG Awards are honoring are all privileged, they still face the same issues that women all over the world have. "Our women are very famous and yet they face the issues that women across this country do, which is they don't have equality in income," Connell explained. "They don't have creative equality. And they have the same kind of safety issues that other women have been facing." Basically, Connell wanted to, "acknowledge as many wonderful women on our stage this year as we could," while celebrating the best performances by everyone.
The presenters at the awards will include Emma Stone, Halle Berry, Dakota Fanning, Lupita Nyong'o, and Kelly Marie Tran, just to name a few. Stone, Berry, Fanning, and Nyong'o have all won SAG Awards before for various performances, but this will be Tran's first time presenting at the ceremony. You'll probably recognize her as Rose from Star Wars: The Last Jedi. I'm glad to see that the SAG Awards are also making an effort to honor a diverse group of women, in addition to them all being women.
Additionally, because this is the first time the SAGs have an actual host, it could be the most entertaining edition of the awards show yet. These awards are different than the Golden Globes or the Oscars, because they are voted on by members of the Screen Actors Guild — an organization which includes basically all actors. They also always begin with introductory videos in which actors tell short stories about themselves and conclude by saying "I am an actor." These intros will feature women only this year as well.
In a less surprising turn of events, the movies, television, and performances nominated are probably exactly what you would have guessed. Three Billboards Outside Ebbing, Missouri and Lady Bird have the most nominations in the film category, while Big Little Lies, Stranger Things, and GLOW lead the pack on the television side of things. I kind of hope Lady Bird and GLOW win all the awards, but I'm excited to see how things shake out. The awards will be shown on TNT and TBS on January 21 starting at 8 p.m. EST.
Check out Romper's new video series, Romper's Doula Diaries:
Watch full episodes of Romper's Doula Diaries on Facebook Watch.