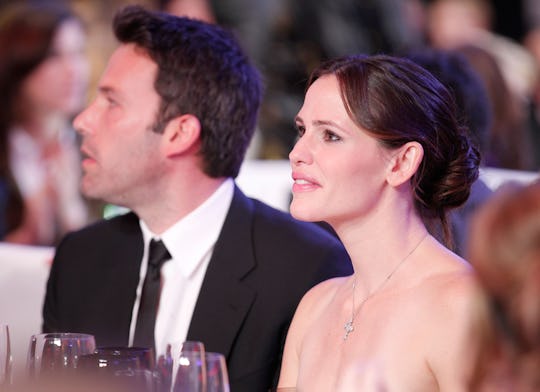 Christopher Polk/Getty Images Entertainment/Getty Images
Ben Affleck & Jennifer Garner Call It Quits
Filing for divorce this week after 10 years of marriage, a much-loved celebrity couple now has plenty of decisions to make regarding their future as well as the future of their children. But why are Ben Affleck and Jennifer Garner getting divorced in the first place? TMZ claimed this week that Affleck and Garner aren't using lawyers for their proceedings, and that the situation is quite "amicable."
UPDATE: Garner's rep confirmed the news to Romper in an email on Thursday evening.
EARLIER: In 2015, TMZ shared the following statement from the couple as to why things weren't working out any longer and were separating:
After much thought and careful consideration, we have made the difficult decision to divorce. We go forward with love and friendship for one another and a commitment to co-parenting our children whose privacy we ask to be respected during this difficult time. This will be our only comment on this private family matter. Thank you for understanding.
In their legal proceedings, the parents are looking to establish joint legal and physical custody of their three children: 11-year-old Violet, 8-year-old Seraphina, and 4-year-old Samuel. Garner and Affleck have done their best to co-parent their children through out their separation, and appear to always try to put their children's needs first. This past February, a source told Us Weekly that "no matter what happens, Ben and Jen are committed to raising their family as one unit and will continue to do so as it has worked for them."
When it was first announced that the two were separated, rumors began to swirl. In an exclusive with Vanity Fair in March of 2016, Garner was able to address some of these post-divorce rumors, specifically the allegations that Affleck was having an affair with their nanny. Garner insisted: "We had been separated for months before I ever heard about the nanny. She had nothing to do with our decision to divorce. She was not a part of the equation." By and large, Garner has tried to ignore public divorce talk. For Garner, getting caught up in the image of things is unproductive. "I cannot be driven by the optics of this. I cannot let anger or hurt be my engine. I need to move with the big picture always on my mind, and the kids first and foremost," she shared.
Another instance in the interview offers a little more insight into the hurt Garner has gone through during their marriage, and perhaps could help explain why there's the need for a split. "He's just a complicated guy," she reminded the interviewer. "I always say, 'When his sun shines on you, you feel it.' But when the sun is shining elsewhere, it's cold. He can cast quite a shadow." After Garner's Vanity Fair moment, Affleck still affirmed his commitment to remaining friendly with her. "Jen's great. She's a great person. We're on great terms. I just saw her this morning, so that's the reality that I live in," he said.
Both Affleck and Garner are keeping the exact reasons for their divorce private, instead working to reinforce their respect for one another as well as their respect for their family. To them, their children are everything, and they will continue to work actively on their friendship — and all of its complexities — even after the divorce proceedings have passed.