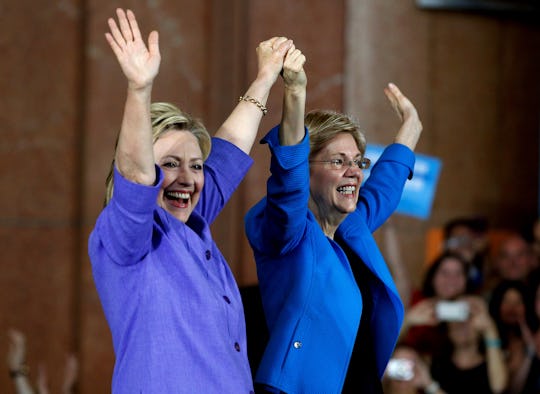 John Sommers II/Getty Images News/Getty Images
Why Are Hillary Clinton & Elizabeth Warren Campaigning Together? A VP Pick Is Possible
For a liberal lady like myself, seeing Elizabeth Warren and Hillary Clinton onstage together, destroying Donald Trump and talking about how to make a fairer America, is the kind of stuff dreams are made of. Their joint campaign appearance in Cincinnati on Tuesday made me want to start writing fan fiction about President Clinton and Vice President Warren smashing the patriarchy, saving the world, and just hanging out and chatting about life. Still, there could be other explanations for why Clinton and Warren are campaigning together, so I suppose I'll hold off on the VP-specific fan fiction for now.
Warren and Clinton have had their issues in the past, with Warren reluctant to endorse Clinton while Bernie Sanders, whose progressive views are more in line with hers, was still a viable contender. But now that Clinton is the presumptive nominee, up against a grown man who somehow never stopped being a schoolyard bully (and who takes special delight in calling Warren "Pocahontas"), Warren has gone full #HillYes.
The senior senator from Massachusetts has plenty of influence, especially with the more progressive wing of the Democratic party. Many in that wing are still hung up on Sanders, and have failed to fully embrace Clinton, so Warren speaking at an event for and with the presumptive nominee definitely helps to reunite the party. That's reason enough for the joint appearance. But many are tempted to read more into it, especially since news leaked that Warren is officially on Clinton's VP shortlist.
Their joint appearance generated a massive amount of coverage and excitement. It's hard to imagine that social media would have blown up in the same way if Clinton had appeared with, say, Virginia Governor Tim Kaine, who is another name on her shortlist. (I personally would happily leave the Clinton-Kaine fan fiction to someone else.) And in an election where many people are half-heartedly talking about picking the "lesser of two evils," Clinton could certainly use a little more excitement attached to her campaign.
But there are definite drawbacks to Clinton picking Warren as her VP. First of all, Wall Street hates Warren, so Clinton could lose a lot of funding for the general. (Although I wonder if she could make up a lot of it from smaller donors, like Sanders did during the primary.) Furthermore, Warren could potentially have greater influence remaining in the Senate and taking a leadership role there. If she leaves to be the vice president, there are no guarantees that another Democrat would take her place, and Democrats are in no position to be blasé about Senate seats.
Finally, an all-female ticket could bring out even more misogyny in a race that's already seen its fair share of sexism. (The "Hillary Sucks But Not Like Monica" shirts being sold outside of Trump rallies are particularly egregious, but only a small fraction of the vitriol.)
Conversely, the prospect of the first all-female ticket is so freaking exciting for feminism. I hope we live in a world where "not inflaming misogynists" can be a lower priority than "picking a qualified and wonderful candidate."
We'll know soon enough if this campaign event was simply Clinton benefitting from Warren's influence, or if it's a harbinger of something larger, something historic and ridiculously exciting.