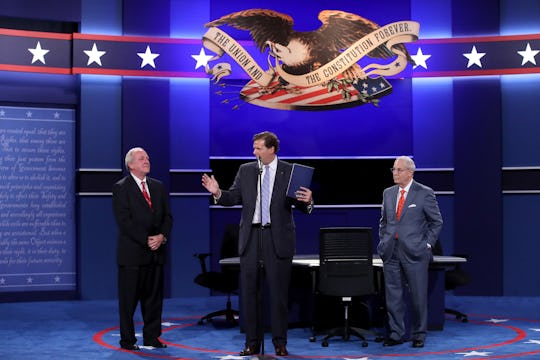 Mark Wilson/Getty Images News/Getty Images
Why Are Tim Kaine & Mike Pence Sitting Down At The Vice Presidential Debate?
On the heels of the first presidential debate between Donald Trump and Hillary Clinton, their running mates met for a showdown of their own. But, the format for the vice presidential debate varied. Beyond the "open discussion" between the candidates, many people at home also wondered why are Tim Kaine and Mike Pence sitting down at the vice presidential debate just feet away from each other at a table while the presidential candidates stood for their debate.
The precedent for vice presidential candidates sitting during their debate extends back several years, according to NPR. Most recently, Dick Cheney and Joseph Lieberman sat for their lively conversation while Joe Biden and Paul Ryan did the same. That is because the format for the meeting between vice presidential candidates is really more of a moderated discussion than an entirely traditional debate with a certain amount of time allotted to each candidate.
But sitting down didn't mean it was a casual meeting between friends. Without that same kind of structure provided during the presidential debate, Pence and Kaine seemed to be running into each other much more often. That led to moderator Elaine Quijano scolding the candidates for talking over each other, which she said made it difficult for viewers at home to hear what each was trying to say.
Although the format for the debate was different, Kaine and Pence didn't slack on preparing for the meeting. Longtime Democratic campaign aide Mo Elleithee told ABC News before the night that Kaine was doing his debate homework by reading and doing mock debates with attorney Robert Barnett standing in as Pence. Kaine also told reporters of his strategy, "It's a different kind of a debate for me because I have done debates where it's, at the end of it, 'Please vote for Tim Kaine.' If I talk too much about Tim Kaine during my debate, I'm wasting my time."
Meanwhile, an aide told ABC News that Pence began preparing for the night from the moment Trump picked him as his running mate — which Pence didn't attempt to hide, considering he publicly read from binders labeled "debate prep" for the past few weeks. The aide added, "The team has developed a plan and they are executing that plan."
With both candidates apparently having so much they wanted to say, that led to a pretty contentious meeting — that wasn't at all tempered by them sitting down for the debate.