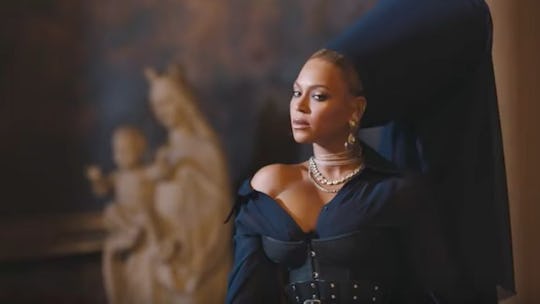 Beyonce/Youtube
Beyonce's Twins Weren't In The "Family Feud" Music Video & Fans Are Disappointed
Well, folks, the moment we've all been waiting for has finally arrived. Now that JAY-Z and Beyoncé's "Family Feud" music video has been released, the collective internet can start picking apart every aspect of it. But first, let's discuss in depth the fact that Beyonce's twins weren't in the "Family Feud" music video. Because fans are freaking out about it and quite honestly, I don't blame them. Frankly, the internet freaks out any time Beyoncé and JAY-Z do anything, but this is particularly exciting. Because it involves their adorable little babies.
When JAY-Z dropped the video for "Family Feud" on Tidal at 4:44 p.m. EST (naturally), fans were already expecting to see some of the Carters' actual family in the video. I mean, it's called "Family Feud." Additionally, the previously released trailer already promised that Beyoncé and the couple's oldest daughter, Blue Ivy, would be a part of the music video. The clip had everything: a church confessional, backstabbing, Queen Bey in a very queenly hat, illicit sex, and Blue Ivy holding her dad's hand in church. The only thing the clip was missing was little Rumi and Sir, the 6-month-old twins who had yet to make their music video debut. So when they didn't showed up in the actual video, the internet predictably was a little disappointed.
Beyoncé's Instagram, though perfection, rarely includes pictures of her twin children, though Blue Ivy does appear from time to time. This is probably why the internet freaked out the first time pictures of the twins surfaced online. The Carters never do anything by halves, so when ended up not showing off the two newest additions to the family, fans were somewhat let down. After all, most of what the famous couple has produced lately has been based firmly on their own personal lives.
Lemonade was the female-empowerment album of the decade, with furious ballads about anger, hurt, and infidelity, ousting even Alanis Morissette in the fury department. After it was released, rumors about JAY-Z's cheating began bubbling more earnestly than ever, with people going to great lengths to identify "Becky with the good hair." Then JAY-Z released 4:44, an apologetic opus about regret and mistakes, of which the song "Family Feud" is one. When he finally copped to the cheating, was anyone really that surprised? The two had been pretty open with their work. And now JAY-Z is taking it one step further by featuring his family in the video — except for those precious twins of his. Though there are some people who felt they spotted the adult versions of the children in the video:
Nothing has been confirmed, of course, though I'm sure it's only a matter of time. (Plus, you know how much the internet loves to obsess over this family, so I'm sure there will be more theories to come.) But since a good portion of the video takes place in the far off future — a future that finds strong, female leaders in the position of power in the government — it's very possible the twins could have been in the video without any of us even realizing it.
Suffice to say, the video did not disappoint in any way. While many may have believed "Family Feud" would focus solely on JAY-Z and Beyoncé's marriage, it was really about so much more than that. Seeing a council of women discussing the constitution was food for my soul, giving us hope for a better future — with Blue Ivy at the forefront, leading the charge.
So even though the twins may have been MIA throughout the music video, the message being sent was so much more important and included the eldest sibling in a very prominent and uplifting way. I'll take it.
Check out Romper's new video series, Romper's Doula Diaries:
Watch full episodes of Romper's Doula Diaries on Facebook Watch.