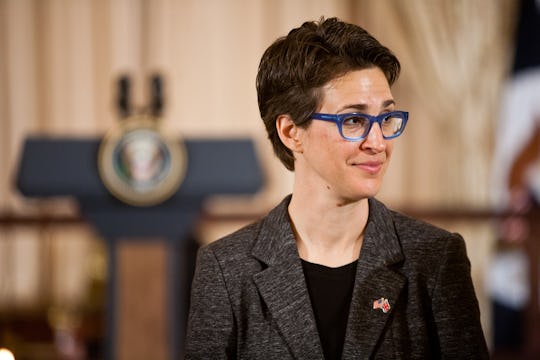 Brendan Hoffman/Getty Images News/Getty Images
Why Did Brian Williams Take Over For Rachel Maddow?
The U.S. missile strike on Syria's Shayrat Air Base on Thursday night raised a lot of questions, but here's one that's a little off the beaten path: Why did Brian Williams take over Rachel Maddow's show on MSNBC? Maddow was scheduled to appear from 9 p.m. to 11 p.m. Eastern Time, but the network apparently thought that she needed a little help, because Williams appeared just after 9 to announce the strike. Fans took to Twitter to complain, and some blamed sexism for the decision. Some were also troubled that Maddow had been replaced not just by a man, but with Williams, specifically. MSNBC has not explained the decision, and Romper's request for comment was not immediately returned.
Williams' credibility was questioned by viewers because he received a six-month suspension and a demotion from NBC in 2015 after it was discovered that he'd embellished a number of personal anecdotes over the years, falsely claiming that he's seen the Berlin Wall fall, survived an RPG attack in Iraq, witnessed a suicide during the aftermath of Hurricane Katrina, and been embedded with SEAL Team 6. Viewers also complained that Williams twice referred to video footage of the missiles launching as "beautiful pictures," and also quoted the Leonard Cohen line, "I am guided by the beauty of our weapons." The line comes from the lyrics of Cohen's 1988 song "First We Take Manhattan," which he described as a "terrorist song."
On paper, Maddow does seem qualified to cover the missile attack herself; according to MSNBC's biography on the host, she earned her doctorate in political science at Oxford University, which she attended on a Rhodes Scholarship. Her show won an Emmy Award in 2011 for Outstanding News Discussion & Analysis, and in 2013, she published a New York Times bestselling book on the U.S. military. She was included in the broadcast, but why did Williams take the lead?
The Daily Mail excused MSNBC's decision, writing that "all the other major networks" pre-empted scheduled programming with breaking news of the missile attack, which is only half true. ABC, CBS, NBC, and Fox were all airing scripted or reality shows before breaking to live news. MSNBC is not a major network; it's a cable news channel.
Other cable news channels kept their scheduled hosts on air during their coverage; Anderson Cooper remained on CNN, and Fox News was anchored by Tucker Carlson. Maddow herself has not addressed the controversy, but fans aren't letting it go.