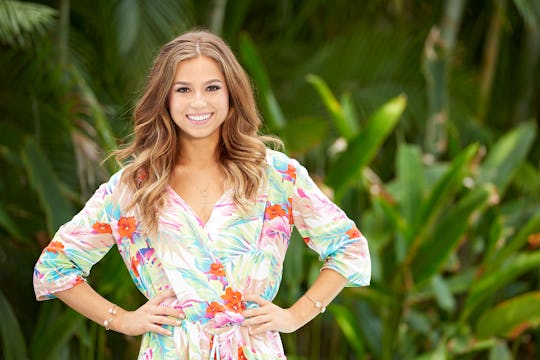 Bob D'Amico/ABC
Kristina Made A Big Decision On 'Bachelor In Paradise'
There's always one plot line that tends to dominate the narrative on shows in the Bachelor franchise, at least for a few weeks. On this season of Bachelor in Paradise, a lot of drama has focused on the love triangle between Kristina, Dean, and Danielle L. Kristina and Dean were a cozy couple from the start, but once Danielle came to Mexico that all fell apart. Dean went back and forth between the two, but on Monday night he decided to pick Danielle, prompting Kristina to make a big decision. Why did Kristina leave Bachelor in Paradise? She and Dean said their goodbyes.
How did it come to this? Kristina and Dean hit it off in the beginning of filming, and spent some time together during the break in production. They were on their way to Evan and Carly status... but then Danielle L. showed up. She took an interest in Dean right away, and Dean reciprocated — without breaking things off with Kristina. He said he had feelings for both of them, and would flip-flop between the two. Last week, Kristina saw Dean and Danielle canoodling in the pool together and she couldn't take it anymore. On Monday night's episode, she confronted him and said he doesn't understand her feelings for him.
Later that episode, Dean finally made a decision: he would pursue a relationship with Danielle. The rose ceremony, however, was women's choice, so he agreed to only accept a rose if it was from Danielle. When it came to the fateful rose ceremony, Kristina went up first — and gave one of the best speeches I ever heard on Paradise, and certainly the most thoughtful.
Kristina discussed about how when she came to Mexico, she wanted to find someone to spend time with; she had that, in the beginning (shade). Soon, though, she wasn't getting that in return. She learned for her next relationship, she wants to be respected, valued, and put first (more shade!). She thus said she couldn't give out a rose, and left. Dean, being the immature guy that he is, walked her out — as if she hasn't had enough of him. He said he "hated himself" even though his actions said anything but, and hugged her goodbye.
If nothing else, Kristina left with her head held high and a lesson for what she needs from her future relationships. From the teasers, it doesn't seem like Dean and Danielle's relationship is the most secure, so I think Kristina made the right decision.