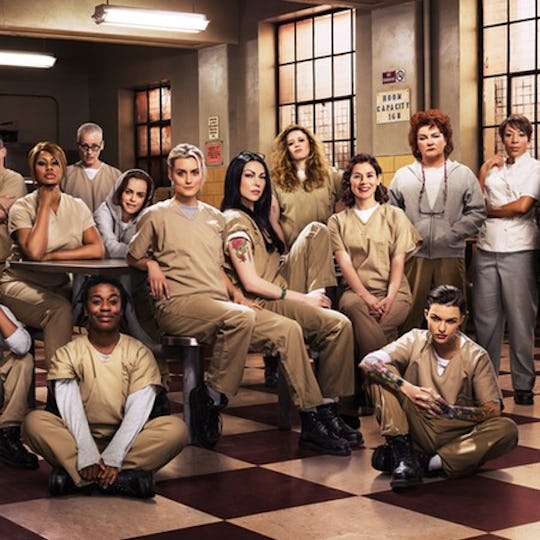 Jill Greenberg/Netflix
Why Didn't 'Orange Is The New Black' Get An Emmy Nomination? Season 3 Wasn't The Best
Right now, if you listen closely, you can hear the sound of thousands of people throwing their favorite streaming devices out their windows in protest over Orange Is the New Black getting snubbed out of Emmy nominations this year. Okay, you probably aren't hearing anything like that, but it's easy to want to when arguably one of the best Netflix shows out there right now is being overlooked. So, why didn't Orange Is the New Black get an Emmy nomination? The short answer is that the 2016 Emmys look at everything before May 31, which is way before Season 4 of OITNB even started, meaning that in order to consider it, they would have to look at Season 3 and um, what they saw isn't too pretty.
It's easy to want to bust some heads when we're all still high on Season 4 of Orange Is the New Black and all of the flashbacks, serious stories, and legit losses we endured, but the truth is, Season 3 had none of that. True, there were high moments with Bennett until he dipped out, and there was Sophia's story line of course. But as a whole, it pales in comparison to the gem of Season 4 and we can all agree that it may have even been the best season yet. So the fact that Orange Is the New Black didn't get an Emmy nomination can be chalked up to Season 3 and its all-over-the-place mentality, along with the fact that of course we're pissed - all any of us are thinking about is the awesomeness of Season 4 at the moment.
If you've been a fan of Orange Is the New Black from the beginning, then you are far too familiar with the love affair we all have with this show nonstop for a weekend out of the year, and then pine for the rest of the time. And if you're a newbie, who went through the first three seasons in a week and are now working through Season 4, then you will come to know the struggle and the struggle is very real.
It may have been judged for Season 3 as far as the Emmys are concerned, but the fact that Season 4 was so insanely on point and approached topics that are more important than the cafeteria food but also ones that are less important than a tampon shortage shows the amount of range its possible of. Orange is The New Black was nominated for an Emmy for casting, but come on, is this even real right now?
Granted, it's still hard to understand why Orange Is the New Black didn't get an Emmy nomination for any of the stellar actresses either, but there is always next year, and we've seen the heights the show can reach. It's not going anywhere anytime soon.