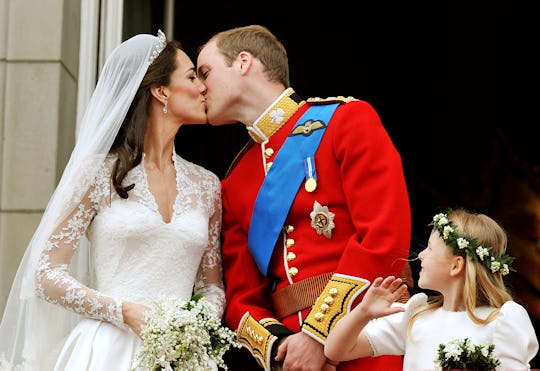 WPA Pool/Getty Images Entertainment/Getty Images
Royal Wedding Dresses Traditionally Have Sleeves, & It's Not Hard To See Why
It's official — royal wedding fever has taken over, once again. We all love keeping up with the charming royal family, but as Prince Harry suits up to get married, all eyes will be on his bride. Those of us who love fashion, and royal fashion to boot, are waiting with bated breath to catch a glimpse of royal bride-to-be Meghan Markle's wedding gown. Fashion experts have all sorts of guesses as to which details Markle's dress will likely have, and one of those is the traditional long sleeves. But why do royal wedding dresses have sleeves?
Royal wedding dresses seem to be more about tradition and symbolism than high fashion, so it's not really a surprise that many of them have sleeves. Markle, according to Vanity Fair, is having two dresses made for the big day — one for the ceremony and one for the reception. And yes, there is definitely talk of lace and sleeves. As Vanity Fair noted, royal brides have some pressure on them to choose dresses that are both traditional and classic, with a certain level of modesty. The dress has to stand the test of time, while still being fashionable and relevant now. Markle's style seems to be a little edgier and more fashion-forward than her sister-in-law-to-be Kate Middleton's simple and classic look; her wedding dress will assumedly point in the same direction.
According to Harpers Bazaar, Middeton's dress designer, Sarah Burton, said that designing a royal wedding dress was difficult task because the dress had to have historical signifance, be grand enough for a Westminster Abbey ceremony, and still be modest enough for a princess. While Markle's dress doesn't need to be as grand for her smaller ceremony, it likely can't be too daring or risqué. Royal dresses have a tendency of being regal (obviously) and feminine, with a touch of tradition.
According to Cosmopolitan, the Queen also gets final approval on the bride's wedding dress, so it's got to be a dress that impresses. As noted by the magazine, since it's a royal wedding with a castle as its backdrop, there is a certain level of tradition that needs to be met. It's unlikely that Markle's dress will be slinky or outwardly sexy.
In an interview with Glamour, Markle once said that though her personal style is "simple and classic with a modern twist", she prefers wedding dresses that are "whimsical or subtly romantic."
As Cosmopolitan noted, there are rumors that Markle's dress cost more than Middleton's (Princess Kate's dress is said to have cost 150,000 pounds), but that isn't too likely. Markle wouldn't intend to upstage a future queen, but her dress is something that is certainly going to be admired, criticized, scrutinized and imitated — all in a day's work for a Princess, I suppose.
In any regard, next weekend's royal wedding is sure to be the event of the year for numerous reasons. Not only is charming Prince Harry getting married to a stunning and smart woman, his bride is an American, and she's half black. This particular royal wedding is relevant to national and international conversations on culture, tradition, race, and interracial marriage. It breaks barriers in many, many ways, and the couple will likely continue to do so through their work and relationship in the years to come.
Prince Harry and Meghan Markle's wedding is sure to be an affair to remember. But more than that, their relationship will hopefully bring to light issues of race and privilege that are still so prevalent in our society. And, if we get to ooh and aah over some fantastic royal wedding fashion, well, then that's just icing on the (wedding) cake.