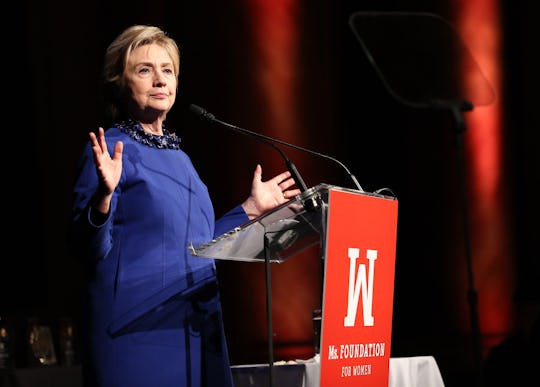 Monica Schipper/Getty Images Entertainment/Getty Images
Hillary Clinton Shouldn't Have To "Take The Blame"
Nearly seven months ago, former Secretary of State Hillary Clinton lost the presidential election, and people are still asking her why. Time and again, she's dutifully answered, but Hillary Clinton should stop explaining her election loss, because she'll never satisfy everyone, and she shouldn't have to. She ran her campaign the best that she could, but it was never her responsibility to protect the United States from a Trump presidency — that was the responsibility of every registered voter. She doesn't need to apologize for America's mistake; she did all she could to prevent it.
Clinton has mentioned some factors that contributed to her loss, such as Russian interference, the WikiLeaks dump of campaign emails, and the specious and overly-publicized FBI investigation into her email server. Critics refer to this as "blaming" everyone but herself, but that's simply untrue. In her latest interview at Recode's Code Conference on Wednesday, Clinton stated, "I take responsibility for every decision I make," and yet the reactions to it only focus on her mentions of the Democratic National Committee, former FBI director James Comey, and the media. "In election blame game, it's time for Hillary Clinton to take her share," read one opinion headline. Another news piece said that she was "running out of excuses for why she lost" while another falsely claimed that she blamed her loss on Facebook and Netflix.
Clinton isn't shifting the blame; she's always said that she's ultimately responsible for her loss. But when pressed, she's offered explanations — completely factual explanations — for why she lost, not whose fault it was. Polling data clearly shows that Clinton's popularity dropped dramatically after Comey announced that the FBI was reopening its investigation of her just days before the election. It dropped after the WikiLeaks dump, as well. Clinton's not saying anything that anybody doesn't already know.
She's also not the first candidate to try to explain her loss, though she's undoubtedly the most-hounded one. When Florida Sen. Marco Rubio dropped out of the race last March, he blamed Ohio Gov. John Kasich for siphoning off his votes. When Kasich conceded two months later, he blamed a lack of money and later, the media. And Texas Sen. Ted Cruz said that Fox News was to blame for his loss to Trump. Going back further, former Gov. Mitt Romney blamed his 2012 loss on "gifts" President Obama gave minorities and young voters (that would be health care, thanks Obama). Besides Clinton, only Arizona Sen. John McCain has blamed himself for losing the presidency, telling supporters in 2008, "We fought as hard as we could. And though we fell short, the failure is mine, not yours."
Clinton has consistently taken the blame for her loss; at a Women for Women International summit in May, she told CNN's Christiane Amanpour, "I take absolute personal responsibility. I was the candidate, I was the person who was on the ballot. I am very aware of the challenges, the problems, the shortfalls that we had." In a May New York Magazine interview, she said, "I take responsibility, I admit that I'm not a perfect candidate." When asked why she thought her detractors claimed she wasn't shouldering the blame, she quipped, "Oh, I don't know, you'd have to talk to a psychologist about it." And, according to a Fortune analysis of every single televised concession speech, going back 64 years, Clinton is the only candidate to ever apologize in a concession speech for losing. "I'm sorry that we did not win this election for the values we share and the vision we hold for our country," she said in her concession speech.
She shouldn't have to apologize. For too long, women have apologized for speaking up in business meetings or taking up space on a sidewalk that a man might otherwise use. Now, the media and much of the public wants Clinton to apologize for becoming the first female U.S. presidential candidate nominated by a major party, and winning the popular vote? She doesn't have a thing to be sorry about, and nobody should try to tell her that she does. The next time a reporter asks Clinton why she lost, she should refuse to answer, because we all know why.