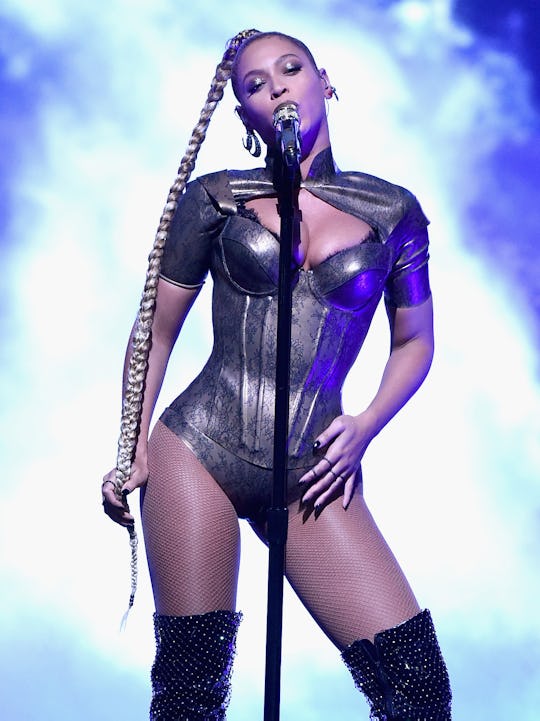 Theo Wargo/Getty Images Entertainment/Getty Images
Why Is Beyonce Performing At The CMAs? She Has Completely Taken Over Music
I'm not much of a country music fan, but I just might be tonight because according to E! News, Beyoncé will be a part of tonight's 50th anniversary Country Music Awards. Wait, why is Beyonce performing at the CMAs? Probably for the same reason that Justin Timberlake sang at the awards show with Chris Stapleton last year. It's always fun to watch a beloved superstar crossover.
Many media outlets such as Fuse, Us Weekly, are predicting that the visual musical artist of Lemonade will sing one of her newest songs, "Daddy Lessons." The media sees this song happening in their crystal balls since it has some country elements to it, and mainly because The Dixie Chicks have been covering the track on their Summer 2016 tour. Queen Bey might play Dixie Chick #4 tonight, or perhaps she will belt out a solo performance, or a new song. Who knows? I think she will do something unique and unforeseeable. Because with Beyoncé, anything can happen — including pulling an album out of a cowboy hat.
The star also has a laundry list of award shows on her resume. She's a seasoned performer on the VMAs, the BET Awards, and has strut her stuff all over the football field during the Super Bowl's halftime show. Another probable reason Beyoncé has been invited is to see how she will rock a country getup. OK, OK that's probably not a legitimate reason, but it would be one of mine if I were the one picking performers. Will she wind up looking like a powerful diva version of Jessie from Toy Story 2? I need to know.
All of these reasons aside, why wouldn't the Country Music Awards want Beyoncé? Her talent is an all-access pass. And if you really have to question her appearance at the awards show, "you must not know ['bout] her."
The 2016 CMA Awards air live Wednesday at 8 p.m. ET on ABC.