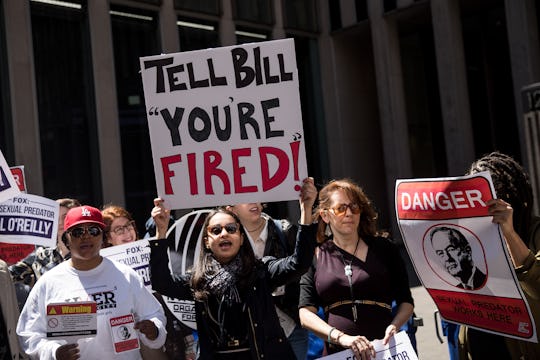 Drew Angerer/Getty Images News/Getty Images
Bill O'Reilly Out At Fox News — REPORT
Twelve years, six months, and five days. That's the length of time that transpired between the first public allegations against Fox host Bill O'Reilly and the first rumors of his imminent departure from the news network that made him a household name. Of course, the myriad justifications behind why O'Reilly is reportedly leaving may not be so secret any longer, but for a long time, they remained dormant beneath Fox News' otherwise glossy surface and O'Reilly's own high-powered, prime-time cable news talk show.
UPDATE: In a statement to various news outlets, including Romper, on Wednesday, 21st Century Fox, Fox News' parent company, confirmed that O'Reilly would not return to the network. "After a thorough and careful review of the allegations, the Company and Bill O'Reilly have agreed that Bill O'Reilly will not be returning to the Fox News Channel," the statement read.
EARLIER: According to New York Magazine and the Daily Intelligencer's Gabriel Sherman on Wednesday, the Murdochs — chairmen of Fox News' parent company, 21st Century Fox (Rupert Murdoch is currently acting CEO of Fox News) — reportedly decided to oust O'Reilly following various allegations of harassment over a span of years, which had prompted a wave of major companies to pull advertising from the show. In a statement to The New York Times a day earlier, lawyers for O'Reilly called the allegations a "smear campaign ... orchestrated by far-left organizations" and claimed that O'Reilly had "been subjected to a brutal campaign of character assassination that is unprecedented in post-McCarthyist America." Romper's request for comment on the reasoning behind O'Reilly's alleged termination by Fox News was not immediately returned.
To be frank, the recent slew of allegations to which his lawyers were referring, and which may have contributed to O'Reilly's downfall, certainly weren't the first; Fox News has been going to bat for the oppugnant host for years. (How's that for a word of the day?)
Back in October 2004, as the story goes, O'Reilly filed suit against former O'Reilly Factor producer Andrea Mackris for what he alleged was extortion. The same day O'Reilly brought his suit against Mackris, though, Mackris did the same, suing the host for alleged sexual harassment and claiming in court papers that O'Reilly's alleged behavior had created a "virulently hostile work environment through explicit, rampant, pervasive, and continued sex discrimination." Mackris sought $60 million in damages. After a rocky back and forth that spanned a period of weeks, the two agreed to settle out of court, each party dropping their suit against the other. In early April this year, The New York Times reported that O'Reilly had paid out some $9 million to Mackris.
In the years that followed, O'Reilly managed to bolster his Fox presence with a number of major interviews, a rotation of equally colorful (and often divisive) guests, and an oft-controversial segment called "Watters' World," in which Factor contributor Jesse Watters would regularly ambush people on the street and ask them trivia questions or general knowledge questions on themed topics. By 2016, with then-GOP nominee and longtime friend (some might argue otherwise) President Donald Trump by his side, O'Reilly appeared unstoppable.
It's important to note that this was the same year that saw defections by longtime Fox fixtures like host Greta Van Susteren, as well as contributors Andrea Tantaros and Gretchen Carlson (both of whom would later accuse O'Reilly of harassment — claims that O'Reilly would deny vehemently). In January 2017, powerhouse host — and perhaps the last vocal female presence on Fox News — Megyn Kelly also parted ways with the network. For all intents and purposes, Fox News belonged to the boys, with argumentative hosts O'Reilly, Sean Hannity, and Tucker Carlson at the helm. Fox News needed them more than they needed the network, it could be argued.
Any semblance of stability the embattled O'Reilly may have enjoyed, however, wouldn't last. By the time Kelly left the network, O'Reilly had already been placed back in the legal limelight once again, with Fox News CEO Roger Ailes' own harassment allegations helping to fan the flames surrounding other pending and past lawsuits. That revelation, paired with former Fox host Juliet Huddy's suit against O'Reilly, then, would be the beginning of the end, though he wouldn't know it until later.
On April 1, 2017, The New York Times dropped the bombshell. "Bill O'Reilly Thrives at Fox News, Even as Harassment Settlements Add Up," the outlet wrote in bold letters above a feature-length profile of O'Reilly's alleged past incidents of harassment (all of which, again, he denied). Underneath, a withering summary: "About $13 million has been paid out over the years to address complaints from women about Mr. O'Reilly's behavior. He denies the claims have merit." It wasn't an April Fools' joke.
According to the report, in addition to Tantaros, O'Reilly had settled with current and former hosts Rebecca Diamond and Laurie Dhue over similar harassment suits in 2011 (Diamond) and 2016 (Dhue). Another former producer, Rachel Witlieb Bernstein, had reportedly settled with O'Reilly as far back as 2002, prior to the Factor host's settlement with Mackris. Factor guest Wendy Walsh too later claimed that O'Reilly had "propositioned" her back in 2013, and that, after she had rebuffed his alleged advances, he refused to invite her back on the show as a regular contributor or help her gain a paying position with the network. (O'Reilly's lawyers contested those claims, alleging that Walsh was never offered a position at Fox.)
Perhaps O'Reilly's career might have survived the brutal public flaying, had it not been for the public outcry by millions of women and anti-sexual assault activists who'd had enough of men in power reportedly being let off the hook for various alleged misdeeds of their own. As the chorus clamored for companies to pull their sponsorship and spots from O'Reilly's 8 p.m. show, and jumpstarted what would become a mass advertising exodus, network executives appeared to rethink their once-concrete defense strategies. Fox News was bleeding out, and the company had to do something to staunch the flow.
Whether the rumored decision to cut ties between the two parties was O'Reilly's or the network's idea is, as of yet, unknown, and will remain that way until either part speaks out on the matter. For what it's worth, O'Reilly maintains that he was unfairly targeted because of his wealth, status, power — anything else that those "below" him might envy, though to his credit, he would never phrase it so brusquely.
Critics might argue that the echo chamber that is social media helped launch the takedown of one of Fox News' biggest names. Longtime viewers and devoted O'Reilly fans will likely wave off any suggestions of wrongdoing with shaming and taunting of their own. O'Reilly himself will almost certainly land on his feet, to the delight and dismay of the divided public.
He is, after all, a master at turning lead into gold — or what passes for it, anyway.