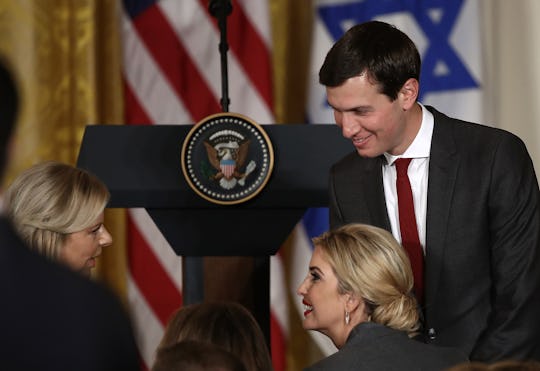 Win McNamee/Getty Images News/Getty Images
Jared Kushner Is Reportedly A New "Focus" Of The FBI's Russia Investigation
According to reports from The Washington Post on Wednesday, Trump's son-in-law and senior adviser is now allegedly a "focus" in the FBI's Russia investigation. So why exactly is Jared Kushner reportedly under investigation? It might have to do with some meetings Kushner allegedly held during the 2016 election cycle.
According to The Washington Post, which first reported the story, sources close to the investigation report that Kushner is not a "target" of the investigation, so he hasn't been accused of anything, but investigators are allegedly looking into some meetings Trump's trusted adviser held with Russian officials back in December. Romper's initial requests for comment from the Trump White House and the Department of Justice were not immediately returned.
"Mr. Kushner previously volunteered to share with Congress what he knows about these meetings," Kushner's attorneys, Jamie Gorelick, said in a statement. "He will do the same if he is contacted in connection with any other inquiry." A Department of Justice spokesperson, Sarah Isgur Flores, told The Washington Post, "I can't confirm or deny the existence or nonexistence of investigations or subjects of investigations."
Again, Kushner hasn't been accused of any wrongdoing, according to CNN. But NPR noted that the increased attention to his activities ahead of the inauguration indicate that Robert Mueller, the special counsel appointed by the Department of Justice earlier this month to lead the investigation into any involvement Russia might have had in the 2016 election, is really digging in.
Earlier this month, Kushner was also allegedly being investigated for an undisclosed meeting with a representative of a Russian bank ahead of the inauguration, according to The New York Times.
It's all about the lingo, though. Being a "person of interest" or a focus of an investigation doesn't mean that a person did anything wrong. Contrary to popular belief, "person of interest" has absolutely no legal meaning at all. (Sorry, Law & Order fans.)
In Kushner's case, the new reports, if confirmed, simply mean that investigators think his activities are worth looking into. Kushner's case is very different from the "subjects" of the FBI's investigation, like Trump's former national security adviser Gen. Michael Flynn, whose records were subpoenaed by the grand jury investigators, or Trump's former campaign chairman, Paul Manafort, who also had financial records subpoenaed.
Although Kushner isn't being charged or accused of anything, the news that the FBI is interested in his meetings is definitely a sign that the investigation into Trump's campaign and it's connection to Russia during the 2016 election is not going away anytime soon.