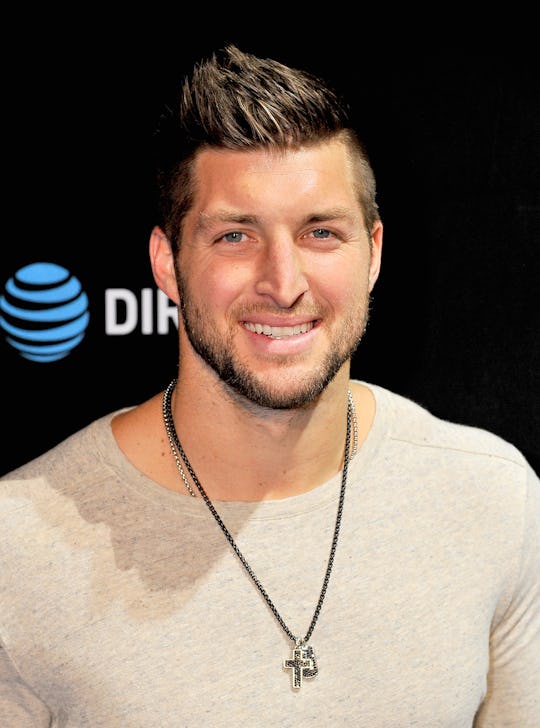 Steve Jennings/Getty Images Entertainment/Getty Images
Why Is Tim Tebow Speaking At The Republican National Convention?
More than a few people were scratching their heads after The New York Times revealed on Wednesday that Donald Trump's guest speaker list for the Republican National Convention included Tim Tebow, the home-schooled evangelical Christian football player whose star burned bright and fizzled fast in the the first half of this decade. Other sports "stars" include professional golfer Natalie Gulbis and UFC president Dana White. So what happened to Trump's good buddy Tom Brady?
While Trump did seem to hint at a Virginia rally last month that Brady might be appearing at the convention, it's not happening. Brady and Trump's names have been entangled ever since fans spotted a "Make America Great Again" hat in Brady's locker during a press conference last September, according to CBS News, but Brady has always distanced himself from the former reality star, claiming that they were just golf buddies and he didn't even know who he was voting for. Trump never got that Brady endorsement, so Tebow it is. Ironically, Tebow has briefly served as Brady's replacement before; he was the second-string quarterback for the New England Patriots during the 2013 preseason, playing for just three weeks before he was released from the team, according to ESPN.
Tebow's a curious choice for Trump, though, considering that the former Bronco's name came up in one of the mogul's more recent scandals. It was less than two weeks ago that the Washington Post uncovered the fact that in 2012, Trump paid $12,000 at a charity auction for a signed Tebow helmet and jersey. While it's nice to finally have concrete evidence that Trump has actually donated money to a charity (even if that charity was the Susan G. Komen Foundation, which has drawn repeated criticism for a variety of issues) it turns out that Trump didn't actually donate his own money. The helmet and jersey, now valued at just a few hundred dollars, were actually paid for by his Donald J. Trump Foundation, which is largely funded by other people's donations.
But despite a professional football career that never quite took off the way some predicted, Tebow's still a hero to the evangelical crowd. As recently as April, there was even a push for him to run for Congress in Florida, according to CNN, as fans called on Tebow to fill the seat of Republican Congressman Ander Crenshaw, who will be stepping down when his term ends this coming January. Tebow's conservative views are well-known; in 2010 he filmed a controversial anti-abortion ad for Focus on the Family claiming that his mother was advised to abort him due to health risks, but declined (as the Center for Reproductive Rights points out, abortion is illegal in the Philippines, where the Tebow family lived at the time). All in all, maybe it's not that surprising that one polarizing celebrity would ask another to speak on his behalf. It should be one hell of a show.