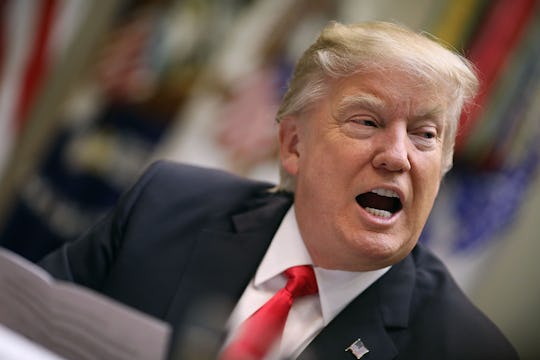 Chip Somodevilla/Getty Images News/Getty Images
That LGBTQ Order Trump Signed Doesn't Mean Much
Boy, howdy President Trump has been awfully busy since taking office just 11 days ago — and yes, it's only been 11 days. Trump has managed to infuriate most of the country and even the world as executive order after executive order has come from the Oval Office with signature on each. Trump's temporary immigration ban has sparked the most outrage, throwing the immigration assistance community into legal chaos since Friday. While Trump seems to have it out for any Muslim refugee trying to get into the country, some cautious optimists have pointed to Trump's record on the LGBTQ community. But you know what? Trump's support for LGBTQ protections means bupkiss thanks to his astoundingly isolationist immigration order.
Trump's temporary immigration ban from seven majority Muslim countries "could amount to a death sentence to LGBTQ people who have few means of escape," Jessica Stern told NBC News. Stern is executive director for the LGBTQ rights non-profit OutRight Action International. Stern noted that of the seven countries targeted in the ban, three countries — Iran, Sudan, and Yemen – list homosexuality as a crime punishable by death. In countries like Iraq, where terrorist groups like ISIS still flourish, gay men have been thrown from buildings and stoned to death. The White House did not immediately return Romper's request for comment.
Trump has spoken in the past about how much he loves "the gays," but he's not a fan of the idea of LGBTQ people getting married. Specifically, he told Fox News' Greta Van Susteren in 2011, "I live in New York. New York is a place with lots of gays, and I think it's great, but I'm not in favor of gay marriage." Um, thanks, I guess? Then, in his party nomination speech at the Republican National Convention last July, Trump made it explicitly clear that he was a champion of "the gays" and even managed to take a dig at his own party in the span of just a few sentences:
Only weeks ago, in Orlando, Florida, 49 wonderful Americans were savagely murdered by an Islamic terrorist. This time, the terrorist targeted LGBTQ community. No good, and we're going to stop it. As your president, I will do everything in my power to protect our LGBTQ citizens from the violence and oppression of a hateful foreign ideology. Believe me. And I have to say as a Republican it is so nice to hear you cheering for what I just said. Thank you.
Unfortunately, that statement comprised a set of Trump's own alternative facts about his own stance on social issues, as he was more than happy to name Indiana Gov. Mike Pence as his running mate. Pence signed the very anti-LGBTQ Religious Freedom Bill into law in 2015. So, I guess Trump is very much a man of literal word, since it's not like the bill Pence signed into law puts the LGBTQ community in the path of violence — it only just gives businesses in Indiana the ability to discriminate against them.
After serious public backlash for his immigration order, Trump tried to redirect focus by announcing that his administration would retain federal workplace protections for LGBTQ workers, put into place by Obama in 2014 — a rare breath of sanity in the last 11 days.
Well, that's all well and good Trump, but by barring LGBTQ refugees from escaping oppressive regions where being gay can literally get them killed, well, that doesn't exactly bolster his previous statements that he supports the LGBTQ community. But then again, let's parse Trump's own RNC statement: "protect our LGBTQ citizens." So basically, if you're not a LGBTQ citizen of the United States, I guess you're sh*t out of luck. That seems pretty on par with Trump's inauguration promise of "America First."
Aaron C. Morris, executive director for the LGBTQ immigrant rights organization Immigration Equality Action Fund, said in a statement Monday that they will be one of many groups fighting the temporary ban:
Immigration Equality received dozens of messages over the weekend from anxious LGBTQ and HIV-positive individuals asking if they would be allowed to return home... This order will ban thousands of LGBTQ and HIV-positive people from seeking safety in the United States. We will not allow that to happen.
Every day Trump's immigration order remains in place, more LGBTQ refugees lives are put at risk.