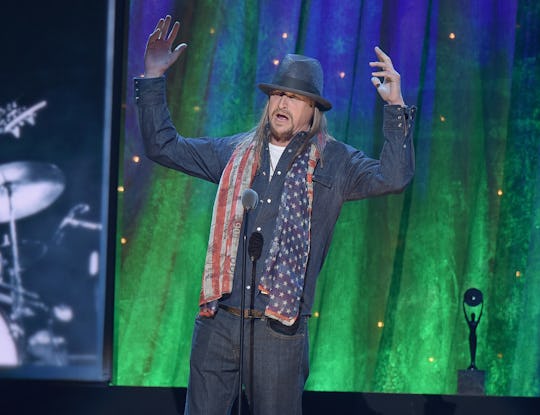 Theo Wargo/Getty Images Entertainment/Getty Images
Why Was Kid Rock Visiting The White House?
Dinners at the White House don't normally make headlines, unless the president is hosting a state dinner or other prominent leader. But on Wednesday night, things just got weird at the most famous address in America, because Kid Rock showed up — with friends, no less. Why was Kid Rock visiting the White House? That's a great question, because trying to answer that becomes even more confounding when you realize that Kid Rock was at the White House with Sarah Palin and Ted Nugent, too. Wait... what?
According to a Facebook post by Nugent on Thursday morning, the unlikely trio dined with the president Wednesday night, posting pictures of the three of them standing in the Oval Office with Trump. Palin too shared photos of their night at the White House on social media, thanking President Trump for the invitation. Meanwhile, Kid Rock hasn't yet commented about his White House visit; neither the White House nor representatives for Kid Rock immediately returned Romper's request for comment.
While there are plenty of photos of Kid Rock, Palin, and Nugent in the Oval Office with Trump, none of them succinctly answer the question of "Wait a minute — why did this happen?" This one is a legitimate head-scratcher, especially when one of those photos looks like this:
By all appearances, it would seem that Kid Rock, Palin, and Nugent visited Trump just to throw shade at Hillary Clinton's official White House portrait, because that seems like the height of professional and political maturity for the three of them. And yes, it could get very political for musicians Ted Nugent and Kid Rock, who might run for Senate seats in Michigan. No, we have not all been dumped into some weird bizarro world alternate universe. All of this — from the WTF White House visit to Kid Rock and Ted Nugent maybe running for Senate — is actually happening.
In lieu of any official explanations from anyone involved in last night's White House visit by Kid Rock, Nugent, and Palin, here are my theories as to specifically why Kid Rock was invited.
Maybe Kid Rock Loves Meatloaf
When I say meatloaf, I don't mean the "Paradise by the Dashboard Light" singer. I mean literal meatloaf. Apparently, Trump loves meatloaf, according to longtime Trump friend and fellow real estate mogul. Perhaps Kid Rock and Trump share a mutual love of the aggregate protein. Kid Rock certainly has a thing for portable American-made grills, when he shot at Chinese-made grills catapulted into the sky in a new promotional video in March for American Badass Grills.
Maybe Kid Rock Wants A Side Hustle
As the singer ponders running for Senate, perhaps he wants to get a little more political experience under Kid Rock's $150,000 gold buffalo skull belt buckle by trying to land of the 2,000 vacancies in the Trump administration that have yet to be appointed.
Maybe Kid Rock Is Hoping For A Sweet Gig
It's no secret that Kid Rock leans right, like "probably only sleeps on his right side in bed" kind of right. During the 2016 election, Kid Rock said he was "digging Trump" in an interview with Rolling Stone. He even performed at the Republican National Convention last July, closing out the event after Trump's speech accepting the GOP nomination. But the one gig he didn't land was playing Trump's inauguration; Kid Rock later explained it was because he wasn't asked.
Perhaps Kid Rock's wacky Wednesday visit to the White House was in an attempt to butter up the president for a gig at one of the White House's many performances throughout the year? With no one willing to give a definite answer as to the purpose of Kid Rock's visit, we may never know. But hey — at least we've got the pictures to prove it.