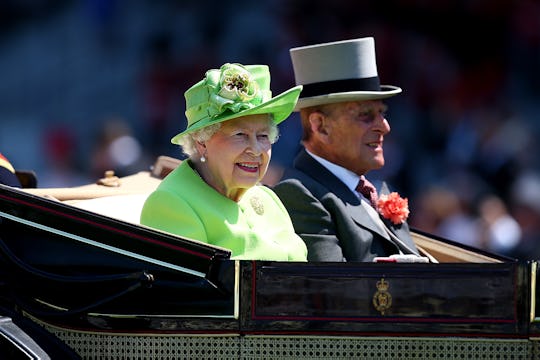 Charlie Crowhurst/Getty Images Entertainment/Getty Images
Why Was Prince Philip Hospitalized?
96-year-old Prince Philip, husband of Queen Elizabeth II, was admitted to London's King Edward VII Hospital Tuesday night, although Buckingham Palace has since called the move a "precautionary measure." Why was Prince Philip hospitalized? The Duke of Edinburgh was in attendance at Saturday's Trooping the Color, according to The Telegraph, and also rode alongside the Queen on the first day of the Royal Ascot races, according to CNN, in both instances appearing to be in good health. In a statement, the palace explained that he'd been taken in "for treatment of an infection arising from a pre-existing condition," although the good news, at least, is that it doesn't seem to be particularly serious.
According to CNN, Prince Philip is said to be in "in good spirits," following his hospitalization, and that he is "disappointed to be missing the State Opening of Parliament and Royal Ascot." The Duke was expected to join the Queen Wednesday morning, when she gave her annual ceremonial address, though according to The Telegraph, she was joined at the House of Lords by her son, Prince Charles, instead. Wednesday marks the third time that Prince Charles has sat beside the Queen on the throne in Parliament normally reserved for his father — according to The Telegraph, he also attended in the Duke's place in 1994 and 1996.
In May, Prince Philip announced that he would be stepping back from public appearances and that he'd essentially be retiring from his royal duties this summer, according to The Guardian. In a statement, the palace said the Duke would still be attending engagements he'd committed to until August, but that he would no longer be accepting new invitations. The palace also noted that the Duke had "the full support of the Queen," though she still intended to "carry out a full program of official engagements with the support of members of the royal family."
As the longest-serving royal consort in British history, Prince Philip has attended 22,191 solo engagements and has given 5,493 speeches since the Queen's coronation in 1952, according to The Guardian. And despite his age, he's hasn't actually slowed down very much: last year, the self-described "world's most experienced plaque unveiler" logged 110 days of official meetings and royal engagements.
As unfortunate as it is to hear about Prince Philip's hospitalization, it's still pretty remarkable that he has remained so active in royal life — and in reasonably good health — at such an advanced age.
It's also yet another indication though, that the Duke met his match in Queen Elizabeth: at 91 years old, Britain's longest-reigning monarch continues to attend royal engagements with little sign of slowing down anytime soon. In fact even the Duke's illness hasn't broken her stride: in the statement regarding Prince Philip's health, the palace said, "Her Majesty is being kept informed and will attend Royal Ascot as planned this afternoon."