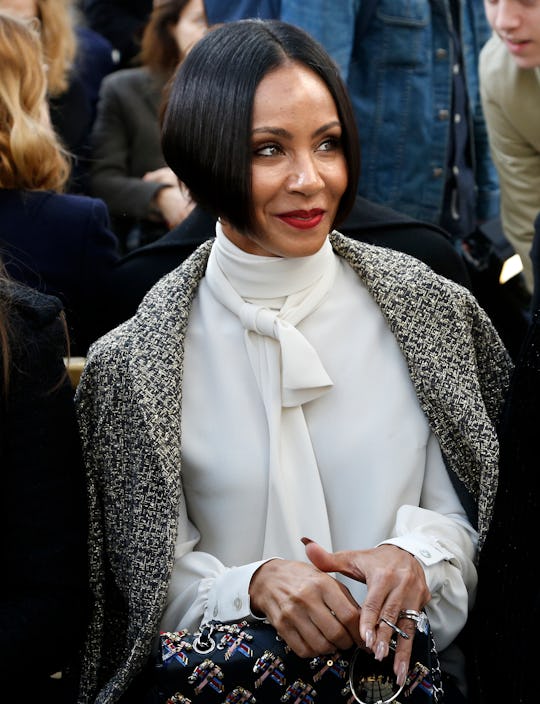 FRANCOIS GUILLOT/AFP/Getty Images
Why Wasn't Jada Pinkett Smith At The MTV Movie Awards? Will Smith's Spouse Was MIA
The 2015 MTV Movie Awards was a monumental night for Will Smith, who received the MTV Generation Award during the award show. Though there were some notable supporters in the audience, including Smith's two sons Trey and Jaden, someone was noticeably absent from the actors side. As Smith went up to receive his award, many wondered why Jada Pinkett Smith wasn't at the MTV Movie Awards.
Although there has been no official statement as to why Pinkett Smith was absent from her husband's big night, there are number of possible reasons why the actress was missing. For starters, she could have been stuck in New York City filming the Fox series Gotham. Another explanation — she could have been with the couple's daughter, Willow, who was also absent from the award show. As a singer and budding fashionista, it's possible that 15-year-old Willow booked a gig and needed a parental figure present. Then again, maybe Will just wanted a night out with his boys. Can't blame him for that, right?
It is a bit surprising that Pinkett Smith would skip an award show that not only honored her husband, but promoted diversity in an industry that has been under serious fire lately. Back in January, following the release of the 2016 Oscar nominees, Pinkett Smith released a Facebook video expressing her disappointment with the Academy and announced she would be boycotting the Oscars.
"Begging for acknowledgement, or even asking, diminishes dignity and diminishes power. And we are a dignified people, and we are powerful," she said. "So let's let the Academy do them, with all grace and love. And let's do us, differently."
Though many criticized her protest, it seemed to ignite some change. According to The Hollywood Reporter, the backlash caused Academy president President Cheryl Boone Isaac to "take dramatic steps to alter" the Academy's membership and future award shows.
Though Pinkett Smith was absent Saturday night, knowing her, it was for a good reason. You don't have to be physically at your husband's side to support his accomplishments. As Pinkett Smith put it eloquently in a 2012 interview, being a wife and mother means constantly being pulled between your dreams and supporting those of everyone around you. That probably means, among other things, that sometimes you make the awards show, and sometimes you don't.