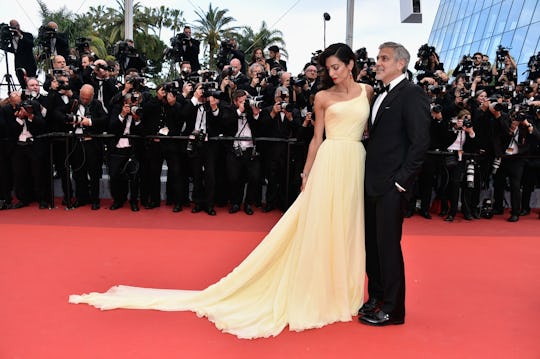 Pascal Le Segretain/Getty Images Entertainment/Getty Images
Will Amal Clooney Give Birth In The United States?
Amal Clooney might be an accomplished Oxford-educated human rights lawyer who speaks three languages and who made headlines earlier this year after she urged the United Nations to take a stand against ISIS, but these days, everyone seems to want to talk about her pregnancy. In February, she and husband George Clooney announced that they were expecting twins, and thanks to George's recent admission that Amal's due date is fast approaching, speculation over the details of the birth is ramping up. Will Amal Clooney give birth in the United States? The jet-setting couple could no doubt choose to welcome their twins into the world anywhere they'd like, but reports suggest they'll be settling down in the U.K. for the foreseeable future.
While the couple hasn't publicly confirmed the twins' actual due date, George gave a pretty big hint over the weekend, when he explained that he'd pulled out of a scheduled appearance at the Aurora Prize for Awakening Humanity ceremony in Armenia. According to People, the actor recorded a video message that was played at the awards and said, "I really would have been there, but if I came there and my wife had twins while I was there, I could never come home."
George didn't specify where "home" actually was, but according to Entertainment Tonight, the couple was spotted in April strolling in the English countryside, where they own a sprawling 17th Century Georgian estate. And from the sounds of it, they will be more than comfortable raising their children there: according to The Daily Mail, the couple's home "sits on a five-and-a-half acre island" on the river Thames, in a village in Oxfordshire. George and Amal are said to have purchased the property shortly after their 2014 wedding in Venice, and moved in two years later following 18 months of renovations.
In February, George told Paris Match magazine that they didn't necessarily intend on settling anywhere full-time until their twins were in school though, and said they would "continue to move" between Italy, the United States, and England depending on their schedules and work demands, according to US Weekly. But it also makes sense that they might choose England as the place where they will actually welcome their twins — in addition to their luxurious country home, Amal works for Doughty Street Chambers in London, according to the New York Daily News, and reportedly plans to return to work following a six-month maternity leave. Her mother, journalist Baria Alamuddin, is also based in London, and given that the couple reportedly does not intend to hire full-time or live-in help with their twins, according to E! News, the couple may want to ensure they have family close by.
George and Amal's lives may be about to change in a major way very soon, but in March, George told Extra that Amal's pregnancy at least had been pretty relaxed. Explaining that Amal was "doing really great," and that she was "amazing," the actor quipped, "I don't have anything to do. There is nothing I can do to help, but make tea and stuff."
One thing that may have led to the couple's low-key life ahead of their twins' arrival? Their decision to avoid all potentially dangerous travel. According to US Weekly, George told Paris Match,
We decided to be much more responsible, to avoid the danger. I won't go to South Sudan anymore or the Congo. Amal will no longer go to Iraq, and she'll avoid places where she knows she isn't welcome.
While George seems more than happy to discuss his excitement over his wife's pregnancy, and the impending birth of their twins, he's remained vague about their plans for the arrival, and what life might look like for the couple as new parents. But one thing seems pretty certain: no matter where Amal gives birth, or when, fans the world over will be waiting eagerly to hear all about it.